The Cast Of Dawson's Creek Just Reunited For A Photo Shoot
by Thea Glassman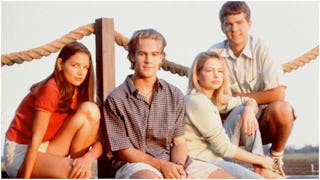 Image via The WB
The Dawson's Creek cast reunited and the pictures are 90s throwback gold
Cue Paula Cole IMMEDIATELY. The entire Dawson's Creek cast reunited and the pictures will make you want to hop in a rowboat and head straight back to Capeside. Also, seeing Katie Holmes and Joshua Jackson together again is enough to remind us all why we're forever Team Pacey.
The cast came together for the show's 20th anniversary, and reminisced on the five angsty, drama-filled years that they spent on the creek. It was actually the first time the whole group had gathered since the show ended — so the reunion was just as thrilling for them as it was for us (but probably only by a fraction).
"I think we've all sort of seen each other over the years, but not everybody all together," Katie Holmes told Entertainment Weekly. "And never for long enough."
Now, let's take a look at the pictures. Be still all of our 90s loving hearts. JEN LIVES.
Oh yeah, and there's video too.
Are you currently crying as hard as Dawson did when Joey sailed off with Pacey that one time? Yup, I thought so.
Unsurprisingly, the entire internet was feeling all the nostalgic feelings seeing the cast reunited, and pretty much everyone reverted to being 15 years old all over again.
Meanwhile, the cast is fully aware they're pretty much the definition of our childhoods.
"I loved that we were able to get in there in those formative years for people," said Michelle Williams. "That's why people, I think, are so connected to it. When something affects you while you were growing up, it kind of stays in there forever."
So, is there any chance that the gang will ever return to Capeside for one last row across the creek? Chances are looking pretty slim, unfortunately.
"What I love about this show is that it existed at a time pre-social media, pre-internet, and it was nostalgic when we were shooting it," Holmes said. "So I really like it where it is, to be honest."
*Sigh.* Fair enough. I guess we'll just have to binge watch the series all over again, and then go find a riverside pier to sob next to.
This article was originally published on