CDC Director: Masks May Be Even More Effective Than A COVID Vaccine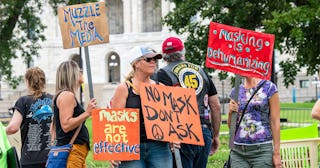 Education Images/Getty
The director for the CDC stresses that face masks are our "best defense" against the novel coronavirus
Putting on a face mask every time you leave the house might seem like a total pain but, according to CDC director Robert Redfield, it's worth any temporary hassle. In fact, we should probably (read: most definitely) all just get on board with face coverings now — they might just be our best hope of ending the novel coronavirus pandemic ASAP.
"These face masks are the most important, powerful public health tool we have, and I will continue to appeal for all Americans, all individuals in our country, to embrace these face coverings," said Redfield during a Senate subcommittee hearing on Wednesday.
He continued, "I have said if we did it for six, eight, 10, 12 weeks, we would bring this pandemic under control. We have clear scientific evidence they work and they are our best defense."
Naturally, we've all been waiting with bated breath for news of a COVID-19 vaccine. The reality, though, is that face masks could be the superior protection even then. Emphasized Redfield, "I might even go so far as to say that this face mask is more guaranteed to protect me against COVID than when I take a COVID vaccine, because [the vaccine] may be 70 percent. And if I don't get an immune response, the vaccine's not going to protect me. The face mask will."
White House coronavirus advisor Dr. Anthony Fauci has also underscored the importance of face masks. Last month, he stressed that the likelihood of producing a highly effective vaccine — one offering 98 percent or more guaranteed protection — is "not great."
That's to say nothing of the fact that a vaccine likely won't be widely available until mid-to-late next year. Sure, health officials plan to start rolling out vaccines as soon as the end of 2020. The catch? They'll be in "very limited supply." Prioritization in the early stages will go to essential workers and high-risk groups. And they still anticipate shortages.
The FDA's approval of a vaccine hinges on the creation of one that is safe and at least 50 percent effective. For context, that effectively aligns with influenza vaccines. Health officials also caution that an effective vaccine is the only real path back to "normalcy."
Until then, as Redfield reminds us, face masks are our best bet of stemming the spread of COVID-19.