Artist Reimagines Celebrities As Disney Princesses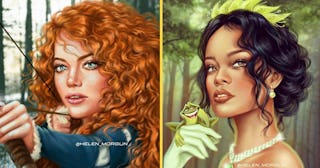 Courtesy of Elena Morgun
There's an artist turning celebrities into Disney princesses and it's completely magical
Who doesn't love a good Disney princess movie? Whether you're a fan of Belle, Cinderella, Mulan or Moana, prepare yourself for a giant dose of magic and cuteness and overall crazy talent.
Elena Morgun is a digital artist who transforms celebrities into Disney princesses and the results are all kinds of gorgeous. Ever wanted to see Rihanna as Tiana from The Princess and the Frog? Now's your chance.
Morgun uses a Wacom graphics tablet and Adobe Photoshop to turn actresses into stunning animated characters, according to Popsugar. She has more than 26,000 followers on Instagram and her feed is a colorful, sparkly, mystical homage to pop culture.
Watch all your favorite Disney princesses and more on Disney+ for $6.99/month. Sign up now for your 7-day free trial.
"In Instagram there are many talented artists and photographers whose works me inspire," Morgun told Scary Mommy. "Many artists draw their versions of Disney princesses. I thought that there are famous actresses who have certain similarities with certain princesses. The first one I drew was Rachel McAdams as Cinderella. She started this series of works."
Okay, let's take a look. First off: Amanda Seyfried as Rapunzel. The flowing blonde hair, the big pretty eyes, the little frog. Nailed. it.
Obviously, Emilia Clarke is Belle from Beauty and the Beast (while casually reading a copy of Game of Thrones, creating the crossover we never knew we needed).
Rihanna looks good doing anything and everything. Being a Disney princess is no exception.
I mean…perfection.
Time to re-listen to "Once Upon A December" immediately.
I guess it is possible that Selena Gomez and Rachel McAdams can look even more gorgeous than usual?
If you're currently having a strong hankering for more magical pop culture paintings – there's a whole lot more where that came from. Morgun also transforms celebrities into other Disney characters, paints iconic moments from movies, and turns Game of Thrones characters into artwork.
https://www.instagram.com/p/BxK03-FlA6g/
https://www.instagram.com/p/Bwjcpp_FzFs/
So, yeah, the moral of this story is that Elena Morgun is insanely talented and we should all probably decide which Disney princess we most resemble ASAP.
This article was originally published on