These Are The Celebrity Baby Names Of 2019 (So Far)
by Rita Templeton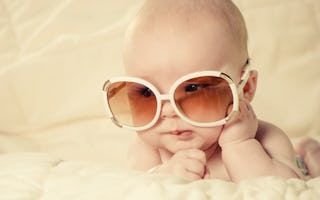 alexeyrumyantsev/Getty
Celebrities — they're just like us! Well, except for the bit about having the financial means to do literally anything. And the constant paparazzi and public demand to know every single detail of their lives. But other than that, SAME!
That's why we love celebrity babies. Because famous or not, nothing puts us all on the same level like the sheer exhaustion of new parenthood (and being shit on during a surprise diaper explosion).
And like all parents, celeb moms and dads go to great lengths to find that perfect baby name. Probably from the Scary Mommy Baby Name Database, TBH.
Here are the names famous parents have given all the sweet little starbabies so far this year.
Prince Harry and Duchess Meghan: Archie Harrison
Britain welcomed its newest royal when Meghan and Harry brought their son into the world in the early morning hours of May 6th.
Star of the Disney Channel's Stuck in the Middle, Cerina Vincent, welcomed her baby boy with partner Mike Estes on February 4th.
https://www.instagram.com/p/Btj-D0EAd6J/
The "Today" co-anchor adopted her second daughter, announced in an Instagram post on April 16th.
https://www.instagram.com/p/BwUPMRqgLRv/?utm_source=ig_web_copy_link
Jason Aldean & Brittany Kerr: Navy Rome
The country crooner and his wife welcomed their baby girl on February 4th.
Jessica Simpson & Eric Johnson: Birdie Mae
Fashion designer Jessica Simpson and husband Eric Johnson hatched their (BIG!) little Birdie on March 19th.
David Tutera & Joey Toth: Gracie Stella
The celebrity event planner and star of My Fair Wedding and his husband, Joey Toth, said "I do" to little Gracie Stella on January 24th.
Amy Schumer & Chris Fischer: Gene Attell
On May 6th (after crashing the Met Gala in sweats on the way to the hospital, because of course) comedian Amy Schumer and her husband Chris Fischer welcomed their little bundle of laughs, Gene Attell.
Rachel Platten & Kevin Lazan: Violet Skye
Baby Violet Skye joined her parents, singer Rachel Platten and husband Kevin Lazan, on January 26th.
https://www.instagram.com/p/BtRVScVh0Lt/?utm_source=ig_embed&utm_medium=loading
Kehlani & Javie Young-White: Adeya Nomi
Singer Kehlani and her partner, guitarist Javie Young-White, hit a high note with the birth of their daughter Adeya Nomi on the weekend of March 23rd.
https://www.instagram.com/p/BvcoKytHdNr/
https://www.instagram.com/jyoungwhite/p/BvcrrWfh_JY/
The host of Look What Happens Live with Andy Cohen was overjoyed to meet his son, Benjamin Allen, born via surrogate on February 4th.
https://www.instagram.com/p/BtfGqLjFIkd/?utm_source=ig_embed&utm_medium=loading
Gordon & Tana Ramsay: Oscar James
Celebrity chef Gordon Ramsay and his wife Tana "took the bun out of the oven" on April 4th with the birth of their son, Oscar.
Carrie Underwood & Mike Fisher: Jacob Bryan
Singer Carrie Underwood revealed on Instagram that she and her husband, Mike Fisher, had welcomed their son on January 21st.
Elizabeth Tulloch & David Giuntoli: Vivian
Actors Elizabeth Tulloch and David Giuntoli (they met as Grimm costars) announced the birth of their daughter Vivian on Valentine's Day.
https://www.instagram.com/p/Bt4RSgXAJpt/
Nev Schulman & Laura Perlongo: Beau Bobby Bruce
The host of MTV's Catfish and his wife Laura became second-time parents to their son, Beau Bobby Bruce, on January 9th.
Harry Shum, Jr. & Shelby Rabara: Xia
Xia, the daughter of Shadowhunters star Harry Shum, Jr. and his wife, actress Shelby Rabara, made her debut around March 28th.
https://www.instagram.com/p/BvkopQWAad-/
Robert F. Kennedy & Amaryllis Fox: Bobby
Grandson of Senator Robert F. Kennedy and his wife, former covert CIA agent Amaryllis Fox, also named their baby Bobby on January 7th — but this Bobby is a girl!
Lily Aldridge & Caleb Followill: Winston Roy
Model Lily Aldridge and her husband, singer (and front man of Kings of Leon) Caleb Followill, welcomed Winston Roy on January 29th.
https://www.instagram.com/p/BuHQ6f7H5Oo/
Desiree Hartsock & Chris Siegfried: Zander Cruz
The Bachelorette alums, who met on the show in 2013, announced the birth of their son Zander on January 12th.
https://www.instagram.com/p/BslGXsZnDDZ/
Tammin Sursok & Sean McEwan: Lennon Bleu
Pretty Little Liars actress Tammin Sursok and husband Sean McEwan picked a perfectly unique name for their daughter, born on January 17th.
LeToya Luckett-Walker & Tommicus Walker: Gianna Iman
Actress (and original member of Destiny's Child) LeToya Luckett-Walker and her husband Tommicus welcomed their daughter on January 4th.
Bekah Martinez & Grayston Leonard: Ruth Ray De La Luz
The Bachelor's Bekah Martinez welcomed daughter "Baby Ruth" with boyfriend Grayston Leonard on February 2nd.
Richard Gere & Alejandra Silva Gere: Alexander
The notoriously private couple haven't yet put out a photo of baby Alexander, born in early February, but his name is the Anglicized male version of his mother's name, Alejandra.
https://www.instagram.com/p/Bjo_c2OD-Le/
Tyler & Catelynn Baltierra: Vaeda Luma
The Teen Mom OG personalities snapped this cute shot of their faithful watchdog looking out for their brand-new daughter Vaeda, born on February 21st.
https://www.instagram.com/p/BuOvRDggqpO/
Derek & Hannah Jeter: Story Grey
Another intensely private couple, the former New York Yankee and his wife, model Hannah Davis Jeter, added daughter Story Grey to their team on or around January 31st.
Ryan Serhant & Emilia Bechrakis: Zena
The "Million Dollar Listing" couple felt like a million bucks upon the arrival of their little girl on February 26th.
This article was originally published on