Celebs Are Clearly On Meghan Markle's Side Against The Palace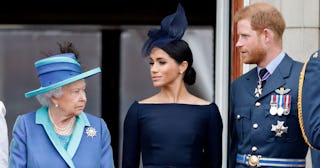 Max Mumby/Indigo/Getty
Gabrielle Union, Jameela Jamil, Meena Harris and more are speaking out in support of Meghan Markle
Meghan Markle has been making a lot of headlines in the last week. Her highly anticipated, tell-all interview with Oprah is airing this Sunday. But, with some highly suspicious timing, stories also broke this week that she bullied Buckingham Palace staff when she lived in London as part of the Royal Family. The alleged bullying supposedly occurred in 2018, so it's more than a little suspect that these stories vilifying Meghan are coming out now, right before she's set to reveal how badly the Royal Family mistreated her. The good news is that everyone seems to be seeing right through this ploy by the Palace, and celebrities far and wide are coming to Meg's defense.
Gabrielle Union, who is one of Markle's longtime friends, responded directly to the Sunday Times article that accused Markle of bullying behavior, with the only GIF that really makes sense in this context.
And there should be no surprise that Jameela Jamil, a frequent champion for women from all walks of life, was quick to lend her support to Markle, writing, "IF THIS IS WHAT THE ROYAL FAMILY IS COMFORTABLE DOING TO A HEAVILY PREGNANT WOMAN PUBLICLY….can we even IMAGINE what they put her through privately?" Indeed.
And people who worked with Markle on Suits have also been speaking up. Jon Cowan, one of the shows writers, had nothing but good to say about the Duchess.
But it isn't just people who know Markle in person who are coming to her defense. Even people with no connection to the Duke and Duchess can see what's happening here. On The View, Joy Behar, Whoopi Goldberg, Sunny Hostin, Meghan McCain, and Sara Haines were all pro-Meg and had some scathing things to say about the Palace.
"I think when it comes to leaks against a subject… you always have to ask, 'Who is benefitting, and what do people gain by making a specific subject look bad?' McCain said. "Right now, they're trying to make Meghan Markle look really, really bad…Why are these things coming out right now? They're coming out because there's a big Oprah interview that's probably going to make the Palace look really bad."
Chrishell Stause, a star of Selling Sunset, thanked her fans for supporting Markle.
Even Chance the Rapper spoke up.
Of course, considering all the racist tabloid coverage Markle has endured since she became a Royal, you can't ignore the racial implications of the abuse the Palace is still trying to hurl her way. Roxanne Gay, New York Times columnist and Bad Feminist author, was one of the first to point it out, writing, "Those British papers really cannot tolerate that Prince Harry loves a black woman."
Meena Harris, niece of Vice President Kamala Harris, minced fewer words with her tweet.
Markle's tell-all interview will air this Sunday on CBS. You know we'll be tuning in, and we hope anyone who questions Meghan's character does too.
This article was originally published on