Chadwick Boseman Raised Sienna Miller's '21 Bridges' Pay With His Own Money
by Christina Marfice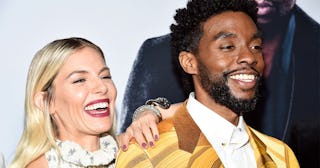 Steven Ferdman/WireImage/Getty
Sienna Miller just told a story about Chadwick Boseman that proves, once again, that he was too good for this world
Since it was announced that Black Panther star Chadwick Boseman had died at just 43 years old, the tributes to the actor have been pouring in, both from celebrities and fans who had met him during his short life. The latest of these comes from Sienna Miller, who co-starred alongside Boseman in the 2019 action movie 21 Bridges. In a new interview with Empire, Miller opened up about how she was cast in that movie, and how it was Boseman who personally made sure she received equitable pay for her role.
"I didn't know whether or not to tell this story, and I haven't yet. But I am going to tell it, because I think it's a testament to who he was," Miller said.
She continued, "This was a pretty big budget film, and I know that everybody understands about the pay disparity in Hollywood, but I asked for a number that the studio wouldn't get to. And because I was hesitant to go back to work and my daughter was starting school and it was an inconvenient time, I said, 'I'll do it if I'm compensated in the right way.'"
Ultimately, Miller said, Boseman used his own salary to make sure she got paid fairly for her role.
"Chadwick ended up donating some of his salary to get me to the number that I had asked for. He said that that was what I deserved to be paid," Miller said. "It was about the most astounding thing that I've experienced. That kind of thing just doesn't happen. He said, 'You're getting paid what you deserve, and what you're worth.' It's just unfathomable to imagine another man in that town behaving that graciously or respectfully. In the aftermath of this I've told other male actor friends of mine that story and they all go very very quiet and go home and probably have to sit and think about things for a while. But there was no showiness, it was, 'Of course I'll get you to that number, because that's what you should be paid.'"
What's really striking about this event is that none of us ever knew it happened. While some actors might have donated some of their pay to help fight gender inequity in Hollywood, Boseman did it just because it was the right thing to do, not because he was seeking any publicity. The many stories and tributes that are coming out about Boseman now, after his death, all seem to fit that mold. He wasn't a great person because it helped his career, but because it was the right thing to do and benefited those around him. Rest in power, Chadwick Boseman.