Channing Tatum Posts Video After His 2-Mile Open Ocean Swim
by Valerie Williams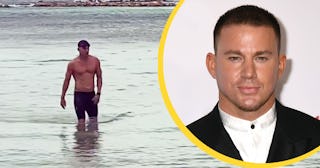 Channing Tatum/Instagram and Jeff Kravitz/Getty
ICYMI: Channing Tatum is in serious shape
It's literally Channing Tatum's job to look amazing. He's in ridiculous shape and he's even fully aware of the fact that most people can't come close to doing what he does to look that good. Tatum's humility only makes us love him more and a recent post about one of his jaw-dropping workouts only further proves that even though his body looks otherworldly, he's actually very down-to-earth.
"I have done all kinds of bullshit to get in or stay in shape. Almost everything you can think of. And i have to say nothing yet has been more suffocating and exhausting and effective than freestyle wrestling or open ocean water swimming," he captions a brief video of himself walking out of the ocean post-swim.
"There are moments in both that i am always like i think I might die haha. Yup pretty sure i can't go on let go would be better than this," he quips. Tatum says he's "not even a professional athlete" and that he can't imagine the hard work they do to be in such great shape. "I do it for movies Hahahaha very different motivation," he writes.
This isn't the first time Tatum pointed out that what he does to stay in shape for his job isn't exactly the norm. The actor recently got very real during an appearance on The Kelly Clarkson Show about his ability to focus on how his body looks — and that most regular people simply aren't able to do the same. "I literally get to work out as a job and it's still hard," he said. "I can't imagine people who have a 9-5 job, who have kids at home, and where do they get the energy and the time to actually focus on themselves?"
He also dished out a little self-deprecating humor about his ridiculously fit bod. "As someone who works out for a job, I promise you I would not look like this unless I had to be naked in most of my movies mostly," he joked to Clarkson. "At some point I have to get better at acting so I don't have to be naked in all of them."
In the end, Tatum's humble and grateful attitude is what makes him so special — even though his body is looking pretty amazing. "Either way get after it everyone," he closes his post. "It's good to be alive. There are so many people that can't say that. I'm so blessed."