Chris Harrison Is Officially Out At 'The Bachelor' After 19 Years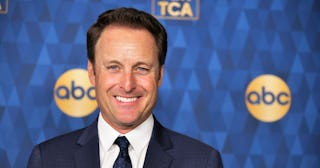 Rodin Eckenroth/Getty
Chris Harrison has exited The Bachelor after 19 years, reportedly receiving a "mid-range eight-figure payoff and promise to keep his mouth shut"
After 19 years serving as the host of The Bachelor and several spin-offs, Chris Harrison is officially exiting the franchise, according to Deadline. After joining as the host all the way back in 2002, it seems Harrison will "receive a rose of his own in the form of mid-range eight-figure payoff and promise to keep his mouth shut," with Deadline reporting that the news will be confirmed later today.
Harrison's exit has seemingly been in the works for several months, after photos surfaced in February of Rachael Kirkconnell — then a contestant on The Bachelor's 25th season — attending an "Old South slave plantation-themed" college formal in 2018. Former Bachelorette Rachel Lindsay interviewed Harrison on Extra shortly after the photos were made public, and he didn't exactly condemn her actions, asking for "a little grace, a little understanding, a little compassion" and questioning whether her actions weren't "okay" in 2018.
"This poor girl Rachael, who has just been thrown to the lions, I don't know how you are equipped when you have never done this before, to be woke enough, to be eloquent enough, to be ready to handle this," he told Lindsay in a nearly 14-minute cringefest about the woes of "the woke police."
Fans were understandably angry with Harrison's take, requesting that he be fired from the franchise. Harrison did apologize on Instagram for "speaking in a manner that perpetuates racism," (as did Kirkconnell) as well as on Good Morning America, telling host Michael Strahan, "There is not [a difference between 2018 and 2021]. Antebellum parties are not okay, past, present, future. Knowing what that represents is unacceptable. I am saddened and shocked at how insensitive I was in that interview with Rachel Lindsay. I didn't speak for my heart, that is to say I stand against all forms of racism .. I'm sorry to Rachel Lindsay, and I'm sorry to the Black community."
Harrison took a temporary hiatus from the series, which has long been criticized for its widespread lack of diversity and multiple reported allegations of behind-the-scenes racism. Here's hoping that Harrison's exit will be the start of many necessary changes to the franchise — they're long overdue, and the franchise's staff, contestants, and longtime fans deserve better going forward.
This article was originally published on