Chris Harrison Apologizes Again For Being Racist & Can He Just Go Away Already?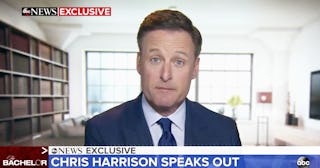 ABC/Twitter
Chris Harrison claims he's not leaving The Bachelor despite racist behavior
Chris Harrison, host of The Bachelor and defender of racist behavior, just went on Good Morning America to apologize again for all the racist shit that went down on The Bachelor in recent weeks and to announce that after all of this, he's still gonna keep hosting The Bachelor.
If you need a refresher: Harrison announced recently that he's "stepping aside" from his hosting duties on the show after attempting to defend Rachel Kirkconnell, a front-runner on Matt James' season of The Bachelor over her attire at a racist "Old South" antebellum plantation-themed party in 2018. In an interview with former Bachelorette and current host of Extra, Rachel Lindsay, Harrison defended Kirkconnell, using terms like "woke police" and essentially defending someone's right to be racist, claiming that in 2018, bigotry was okay, or something? To date, Harrison has made two (two!) Instagram apologies about his behavior and in the aftermath of the whole thing, toxic Bachelor fans have harassed Lindsay to the point that she needed to delete her Instagram.
Now, in a third attempt at an apology, Harrison told Good Morning America host Michael Strahan that he's again, oh so sorry.
"It was a mistake, I made a mistake," Harrison said. "I am an imperfect man, I made a mistake, and I own that."
"I am saddened and shocked at how insensitive I was in that interview with Rachel Lindsay. I didn't speak for my heart, that is to say I stand against all forms of racism," he said. "I'm sorry to Rachel Lindsay and I'm sorry to the Black community."
And on the topic of Bachelor fans running Lindsay off Instagram in defense of Harrison, he said, "To anyone who is throwing hate at Rachel Lindsay please stop… I am not a victim here, I made a mistake and I own that. Racism, oppression, this is a dynamic problem and they take work and I am committed to that work."
Over the weekend, The Bachelor announced that Emmanuel Acho would step in and host the upcoming "After the Final Rose" episode, but according to Harrison, he will return to his longtime hosting gig.
"I plan to be back and I want to be back" Harrison said. "[I am] committed to progress, not just for myself, also for the franchise. This interview is not the finish line. There is much more work to be done. And I am excited to be a part of that change."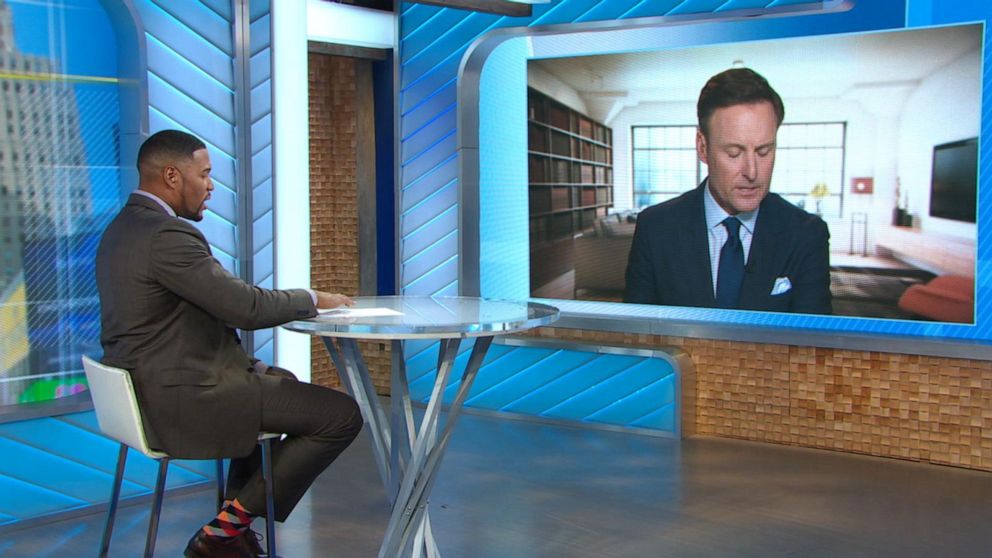 Harrison says he's working with "a race educator and strategist," which is great, but it still doesn't explain why Harrison is holding on to that hosting gig with an iron fist. It's not like he needs the money? He's also an executive producer of the show, so if he just stops hosting the show, he still has a job… as the executive producer of The Bachelor, one of the most popular reality shows of all time! He is a literal millionaire, there is no reason he should be so obsessively trying to cling to that hosting gig.
After listening to Harrison's apology, Strahan gave his two-cents to his GMA co-hosts after, saying, "I mean obviously, he's a man who clearly wants to stay on this show, but only time will tell if there is any meaning behind his words."
Couldn't have said it better myself.