Chris Hemsworth Is Adorably Proud Of Wife Elsa Pataky's New Book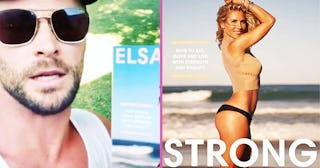 Chris Hemsworth/Instagram and Elsa Pataky/Instagram
In an Instagram video, Chris Hemsworth proudly flaunts wife Elsa Pataky's new book, Strong
In addition to being seriously one of the hottest men in Hollywood, Chris Hemsworth is an awesome actor, a totally devoted dad, and an adoring husband to his wife of nearly nine years, Elsa Pataky. It's safe to say that millions of women around the world consider him their hall pass. And over the weekend the Aussie actor proved to be, like, the best husband ever, using his social media clout — and ridiculously large muscles — to promote Pataky's latest book, Strong.
"My wife wrote a book. It's terrific; check it out and pre order at Elsas bio @elsapatakyconfidential," he captioned the video posted to both his and Pataky's respective Instagram accounts.
"Hey there, guys, I'm Elsa Pataky," the Thor actor jokes in the video. "This is my new book, Strong. A whole lotta ways to get strong, to eat, live, move, and live and move with strength and vitality."
Then, Hemsworth hilariously gives us a "couple of examples" on workouts that will get us strong, using the book as a barbell. He does the "classic bicep curl," the "single-arm shoulder press," and then gets down and does a little "one-arm pushup." Then, he suggests doing a little "catch with the dog" — or should we say, throws his wife's literal accomplishment at his adorable pooch, Sunny. "The dog doesn't love it, but I do," he concludes the video. "Check it out."
Pataky poked fun at her hubby on her own Insta page, writing, "Here is the first copy of my book, being tested by some loon 🤣❤️! I hope you love it as much as @chrishemsworth!"
In addition to being just all sorts of greatness, Hemsworth also has an interesting past. Like, did you know that one of his first jobs involved… breast pumps? During an appearance on The Tonight Show Starring Jimmy Fallon, the actor shocked Fallon when he revealed that at the age of 14, he worked at a pharmacy that rented out breast pumps. When the pumps would come back in, after being used by nursing women, it was his job to clean them out and occasionally repair them.
"Pharmacies would rent them out and they would come back covered in dried milk," Hemsworth said. "So I'd have a toothbrush, and I'd clean the milk out." And no, he wasn't joking!
But back to Elsa's book. She is Hemsworth's female equal in every way, including fitness. All bets are off regarding who would win in the exercise equivalent of a dance-off. She obviously knows a thing or two about healthy living, so it only makes sense that she would write a book about it.
Strong is available on Amazon and will be released November 26 — you know, right before that holiday where we all stuff our faces with turkey. So, in case you want to get ready for some #fitspiration right before the holidays, preorder now.
This article was originally published on