Chris Hemsworth Previews His New Thor Bod And MY GOD
by Kristina Johnson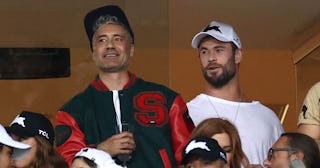 Cameron Spencer/Getty
The internet goes wild for Thor: Love and Thunder star Chris Hemsworth's massive arms
You may have heard that actor Chris Hemsworth is set to star in Marvel's upcoming superhero flick Thor: Love and Thunder. But we now know that the undisputed star of the film is actually Hemsworth's arms, and no one else. The actor showed off his massive biceps on Instagram, and jaws around the world dropped to the floor.
"That's a wrap on Thor Love and Thunder," he wrote on the post. "It's also national don't flex day so I thought this super relaxed photo was appropriate." I suspect he may have made that holiday up, and I also suspect that no one cares because look at those arms. They look like literal tree trunks. They look like he'd have to turn sideways to fit through a doorway. They look the way Mark Ruffalo's arms look when he plays the Hulk—except those are CGI'd.
It's a huge change from the last time we saw Thor onscreen, when the character was out of shape (yet still managing to save the world) in Avengers: Endgame. Obviously, fans had a lot to say about Hemsworth's ripped physique, with some hilariously suggesting that the arms deserved topping billing in the movie and possibly their own paycheck. At the very least I hope they had their own trailer on set.
Others joked that Hemsworth was going full method actor for the role — he plays a god, and he might actually be one in real life now. Or at least as close any mere mortal can come to it.
It's not the first time that Hemsworth has shown off his arms recently (though I suppose he can't really help it, seeing as how they're attached to his body and therefore in every picture). A snap he posted with his son last week also had people commenting on the huge biceps—but his own brother Luke Hemsworth chimed in to poke fun at his comparatively smaller (yet absolutely normal human-sized) legs. "Bro?! You've been skipping leg days again?!" he wrote. The evidence now suggests that every day is arm day at the gym for Hemsworth, but no complaints here.
Hemsworth's arms are likely going to steal the show when the film hits theaters next year. Thor: Love and Thunder is due out February 11, 2022.