Chrissy Teigen Had 'Scary Morning' With 'Huge' Blood Clot Post-Transfusion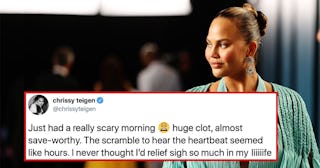 Chrissy Teigen/Twitter and Rich Fury/VF20/Getty
Chrissy Teigen shares update on "scary" blood clot while on hospital bed rest
Our girl Chrissy Teigen is having a tough week. After being put on hospital bed rest due to "severe bleeding" while pregnant with her third child, the model/host/cookbook author has been keeping her fans updated with frequent social posts from her hospital bed and after getting a blood transfusion, Teigen took to Twitter to share about her "scary morning" dealing with a "huge" blood clot.
On Monday, Teigen opened up about her, honestly, really scary pregnancy complications, saying she had been bleeding on and off for about a month before checking into the hospital. "We're talking more than your period, girls, and definitely not spotting. A lot of people spot and it's usually fine, but mine was a lot," Teigen shared in a series of IG Stories. When the bleeding would not stop, she decided to go to the hospital.
Teigen took to Instagram to say she was getting a blood transfusion, which she said "sounds so much more dramatic than it is. It's just like an IV except not fluids, it's human blood." Then on Tuesday morning, she returned with an unsettling update.
"Just had a really scary morning," Teigen tweeted. "Huge clot, almost save-worthy. The scramble to hear the heartbeat seemed like hours. I never thought I'd relief sigh so much in my liiiiife."
Teigen's tweet about "relief" upon hearing a heartbeat following the blood clot scare is the latest update from the star, though on Monday, she elaborated on the blood transfusion, sharing her gratitude for the experience.
"I got some blood from somebody. So if you donate blood, it goes to actual people, people that might be me," Teigen shared before joking. "I kind of feel like I definitely have somebody else inside me right now, which is an odd feeling to have."
Before this morning's update, Teigen told her fans that her unborn son is doing fine, it's just that her body is well, going through it.
"He is the strongest, coolest dude in the shittiest house. His house is just falling apart, it didn't have a good foundation to begin with," she explained. "He didn't have the strongest chance at the very very beginning so all we're doing now is trying to make sure that he's got a lot of fluid around him and that I'm resting obviously as much as possible. And it's just hard because there's not much that you can do."
Thankfully, Teigen's lovely husband John Legend is by her side, sleeping in the hospital and making her sandwiches. Sending love and positive vibes to Teigen, we're rooting for you.