Chrissy Teigen Marks First Anniversary Of Losing Her Son With Heartbreaking Pic
by Valerie Williams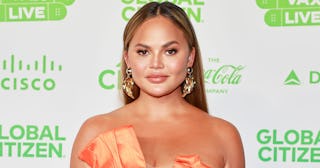 Emma McIntyre/Getty
Chrissy Teigen lost her son Jack a year ago due to pregnancy complications
A year ago, Chrissy Teigen and John Legend endured what no parent should ever have to — the loss of a child. Teigen was pregnant with the couple's third child when pregnancy complications ultimately led to the model and cookbook author being hospitalized. They lost Jack and shared the horribly sad news on Instagram.
Now, Teigen is commemorating their heartbreaking loss with a new post to remember little Jack a year later.
"and to the son we almost had," Teigen wrote after dedicating a post to son Miles in honor of National Son's Day. "a year ago you gave me the greatest pain I could ever imagine to show me I could survive anything, even if I didn't want to."
"i didn't get to take care of you but you came and went to get me to love myself and take care of myself because our bodies are precious and life is a miracle," she writes. "they told me it would get easier but yeah, that hasn't started yet. mom and dad love you forever."
When Jack passed away last year, Teigen wrote of the gut-wrenching experience on her Instagram account, breaking hearts everywhere. "We are shocked and in the kind of deep pain you only hear about, the kind of pain we've never felt before. We were never able to stop the bleeding and give our baby the fluids he needed, despite bags and bags of blood transfusions. It just wasn't enough."
She shared that they chose to name their son Jack and thanked everyone for their support. "On this darkest of days, we will grieve, we will cry our eyes out," she wrote. "But we will hug and love each other harder and get through it."
Since the loss of Jack, Teigen has been incredibly candid and made herself vulnerable in sharing so much of what her family went through a year ago. Her openness on what's normally a topic parents don't broach publicly has undoubtedly made others who have experienced this kind of deep pain feel less alone. It's long past time we destigmatize talking openly about miscarriages and stillbirths so parents can speak out and get the support they very much need during a beyond heartbreaking time. Teigen has done something truly important in sharing her experience.
This article was originally published on