Chrissy Teigen Explains 'Severe Bleeding' From Her Hospital Bed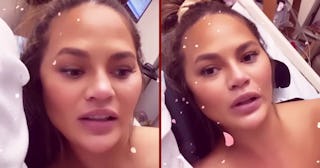 Chrissy Teigen/Instagram
In a series of Instagram Stories, Chrissy Teigen details the pregnancy complications that led to full hospital bedrest
Model, Twitter queen, cookbook author, and mom of two (soon-to-be three) Chrissy Teigen is a busy lady. When she's not promoting her cooking-related ventures or appearing in her husband's music videos or being a gorgeous model, she's being a mom to Luna and Miles. Now, she's being forced to put it all on hold after being put on hospital bedrest due to "severe bleeding" while pregnant.
Teigen took to her Instagram Stories to tell fans what's going on with her body and her baby, and guys, it sounds a little scary.
She explains that she's had bleeding on and off for about a month. "We're talking more than your period, girls, and definitely not spotting. A lot of people spot and it's usually fine, but mine was a lot," she shares. Teigen is close to halfway through with her pregnancy and says the bleeding was happening after using the bathroom and even while lying in bed.
But as the flow grew more concerning, Teigen decided it was time to head to the hospital. "Today the big difference was that it kind of was like if you were to turn a faucet onto low and leave it there," she explained. "It was at the point today where it was never stopping bleeding and that's obviously very bad."
She emphasized that despite her situation, she's still feeling "really good" and feels confident in her doctors. That said, she's over the people on social media who think they can weigh in on her health situation from afar. "If you are a doctor, I cannot express enough how badly I would like for you to stop your guessing games. I have very good doctors who know the entire story."
Teigen was already on bedrest from home for the last few weeks due to bleeding and has been conducting her usual social media shenanigans while comfy at in her own bed.
Although being in the hospital sounds concerning, Teigen assures that her little guy is doing well. "In the simplest of terms, we can say my placenta is really, really weak. I feel really good, the baby is so healthy, growing stronger than Luna or Miles. He moves a lot, he moves so much earlier than they ever did," she says.
"It's always been kind of the bad part of my pregnancies," Teigen explains. "With Luna, with Miles — it just stopped feeding him, taking care of him. I was stealing all of his food because I was getting huge, but he wasn't getting big at all… I was induced both times."
"He is the strongest, coolest dude in the shittiest house. His house is just falling apart, it didn't have a good foundation to begin with," she says. "He didn't have the strongest chance at the very very beginning so all we're doing now is trying to make sure that he's got a lot of fluid around him and that I'm resting obviously as much as possible. And it's just hard because there's not much that you can do."
Thankfully, husband John Legend is by her side and making her yummy sandwiches.
I mean, come on. Too sweet.
Teigen and Legend announced the happy news of their third child in the music video for Legend's song "Wild." Teigen's latest cookbook has now been put on hold while she focuses on staying healthy for the remainder of her pregnancy. "I'm just so excited for him because he's so wonderful and the strongest little dude," she said in her video. "I can't wait for him."