Chrissy Teigen Is Every Quarantine Mom Who Has Little Kids Up Her A*s 24/7
by Cassandra Stone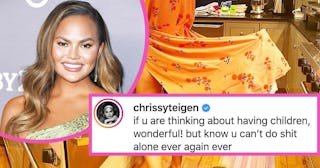 Steve Granitz/Getty and Chrissy Teigen/Instagram
Chrissy Teigen's latest photo perfectly highlights what life is like for moms of small kids right now
If you're a parent of a tiny human, the memory of what being left alone is likely is a distant one. And now that we're all quarantined with no childcare, Chrissy Teigen is showing us all what having small kids is really like.
Parents of children under a certain age are not allowed to do anything alone: pee, shower, cook, read books, watch TV, sleep, or breathe. Being inside with them 24/7 only exacerbates this fact.
"If you are thinking about having children, wonderful!" Teigen captions a photo of Luna, literally living under her mom's robe. "But know you can't do shit alone ever again."
HOW TRUE IS THIS THOUGH? I have a four-year-old and an infant and I cannot remember what it was like to enjoy a moment's peace. What I wouldn't give to enjoy some hot McDonald's fries and a milkshake in my car alone — what I personally consider a luxury — but it's not gonna happen anytime soon.
Teigen, like many celebrities, has been documenting the daily ins and outs of staying at home 24/7. Basically it's a lot of cooking, a lot of robes, a lot of stir-crazy kid stuff, and a stuffed animal wedding. So basically the same as the rest of us, give or take a faux toy wedding or two.
Though many of us are now working all day and parenting all day simultaneously for the first time, it's worth it to take a break and enjoy the seaside nuptials between little Luna Legend's favorite stuffies.
Earlier this month, Chrissy and John were among the celebrities Ellen cold-called from home, where she is now currently quarantined like the rest of us amid the global pandemic (except for, you know, most of us don't have 10,000 square feet in which to isolate, but I digress).
"Ellen does honestly not know how to not work," Teigen wrote.
But you know who does? Little kids. Who work all day on snacking, watching their screens, arts and crafts, more snacking, whining about getting dressed, some more snacking, and not letting us out of their sight.
We're all in this together! Very, very, together.