Chrissy Teigen Pays Tribute To Baby Jack On What Would've Been His Due Date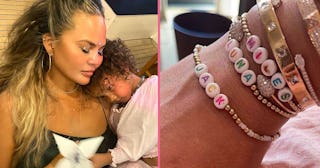 Chrissy Teigen/Instagram
Chrissy Teigen suffered son Jack's loss halfway through her pregnancy
Chrissy Teigen shared a special picture with fans over the weekend on what would have been her son Jack's due date. The cookbook author and her husband, John Legend, have been very vocal about suffering a pregnancy loss at 20 weeks, hoping their experience will remind others they are not alone.
Teigen's photo showed the mom-of-two wearing a bracelet with Jack's name on it, alongside two similar bracelets with the names of her 4-and-a-half year-old daughter, Luna, and 2-and-a-half year-old son, Miles.
"Today was your due date. we love you forever," Teigen wrote on her Instagram Stories.
Teigen has been open about the grieving process during these past months. "Even thinking back to it now, I am still in therapy about it and I'm still coming to terms with it," Teigen told Ellen DeGeneres earlier this month. "I have maternity clothes, and there are things that I bought for my eighth month and my ninth month. So it's just hard because he would've been born this week, so you look at those things and you have these constant reminders."
Teigen also shared a picture on Instagram of her lost in thought, writing, "Can smile all day but thinking of you on your due date, bug."
She, like so many other women who have experienced pregnancy loss, continue to go about their lives, raising kids, working, and going through the motions while dealing with the pain of losing a child.
Teigen also shared in the weeks leading up to his due date that she was feeling "a bit off," as this is when she would have been preparing to welcome her baby boy home.
"I truly feel kicks in my belly, but it's not phantom," she tweeted. "I have surgery for endometriosis tomorrow… but the period feeling this month is exactly like baby kicks. sigh."
Teigen also shared a video of her stomach, heartbreakingly demonstrating the phantom kicks. "I'll pretend it's him saying hi – it never stops," she wrote.
Teigen also told DeGeneres that despite the pain of the experience, she feels tons of support from others who have walked this path before her.
"And then you think about all the people that go through it in silence and you get really sad for them. Ours was so public, so so many people were so supportive," she said. "You really gain this incredible amount of empathy. And I really, somehow, think I'm a better person now. And I just have the best support system ever."
After taking a brief social media hiatus to deal with the initial grief of losing her son, Teigen wrote a heartbreakingly beautiful essay for Medium. "People say an experience like this creates a hole in your heart," she wrote. "A hole was certainly made, but it was filled with the love of something I loved so much. It doesn't feel empty, this space. It feels full."