Chrissy Teigen And John Legend Call Michael Costello DMs 'Completely Fake'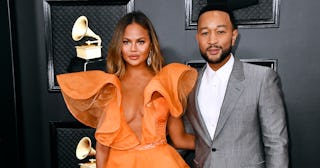 Frazer Harrison/Getty Images for The Recording Academy
'Enough. Or this WILL go further,' Teigen writes. 'Not here, but an actual court of law'
Chrissy Teigen and John Legend are speaking out against the reported DM exchange between Teigen and fashion designer Michael Costello.
On Monday, Costello took to Instagram to share a now-deleted post showing an alleged thread of DMs between him and Teigen — images that Teigen and Legend are now calling "completely fake."
"No idea what the fuck michael costello is doing," Teigen tweeted. "He just released a statement where he didn't at ALL acknowledge how fake the dm's were, & now claims to have emails that don't exist. So while he conjures those up (hopefully with someone more talented in fakes this time), here."
In the statement posted by Teigen on both her Twitter and Instagram accounts, the screenshots from 2014 are described as "fictional," adding that not only was Teigen's account misspelled but that the screenshots included elements that were not a feature on the Instagram app back in 2014, including a video chat function that was not launched on the app until 2018. The statement adds that the screenshots featured Teigen's old profile photo that was changed in 2016.
"The old profile picture and these new Instagram features could no co-exist in the same authentic screenshot," the statement reads. "Recent media investigations have confirmed these inconsistencies as well."
The statement's referring, at least in part, to Insider's coverage of the screenshot inconsistencies. According to the outlet, a member of Teigen's team claimed the screenshots were manipulated.
In Costello's original statement, he wrote that he received a public comment from Teigen on Instagram accusing him of "being a racist."
"She apparently formed her own opinion of me based on a photoshopped comment floating around the internet," he alleged in another now-deleted Instagram post. "When I reached out to Chrissy Teigen to communicate that I was the victim of a vindictive cyber slander, and that everything she thought I was is not who I am, she told me that my career was over and that all my doors will be shut from there on."
Legend has since come forward to address the "made up, completely fake, never happened" DM exchange, tweeting, "Chrissy apologized for her public tweets, but after her apology, Mr. Costello fabricated a DM exchange between them."
"Honestly, I don't know why anyone would fake DMs to insert themselves in this narrative but that's what happened," Legend continued. "I encourage everyone who breathlessly spread this lie to keep the same energy when they correct the record."
A couple hours later, Costello responded to Legend's tweets, writing in part, "Your wife has hurt good people and done a lot of shady things offline to ruin other people's careers. You may not know that, but she does."
It didn't end there.
Costello's team released a statement in response to Legend's tweets.
"The fact that Chrissy Teigen and her crisis team are working so hard, so strategically to come out against the DM's she sent me, and to downplay the comments she publicly posted on my Instagram, only proves that she is the same bully she always has been, despite her fake apology to the public," Costello said, per Insider.
Costello laters adds that he "spoke the truth" and that he has "nothing left to say and nothing left in [him] to keep fighting against [Teigen]."
Teigen also threatened legal action, writing on Instagram, "Enough. Or this WILL go further. Not here, but an actual court of law."
"Chrissy has every right to correct the record and defend her name," Teigen's statement reads. "She is not interested in making Mr. Costello the target of harassment or abuse from anyone claiming to support her. She hopes this can be a time of honest reflection and healing."
This article was originally published on