Chrissy Teigen Feels 'Kicks' During What Would've Been Jack's Birth Week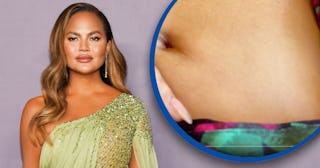 Rodin Eckenroth/FilmMagic/Getty and Chrissy Teigen/Twitter
On what would have been her late son, Jack's, birth day, Chrissy Teigen opens up about her grief
Chrissy Teigen is generally an open book, even when it comes to her personal life. However, the model, cookbook author, and mom has been taking her time opening up about one of the most painful experiences of her life: the loss of her third child, Jack. In September 2020, Teigen and husband John Legend revealed they had lost their baby at 20 weeks, and have gradually shared their grief and mourning with the public. Now, as it nears what would have been Jack's due date and her upcoming endometriosis surgery, Teigen is revealing more details about how the loss is still impacting her life.
"My little jack would have been born this week so I'm a bit off," she tweeted. "I truly feel kicks in my belly, but it's not phantom. I have surgery for endometriosis tomorrow . . . but the period feeling this month is exactly like baby kicks. sigh."
She also shared a video of her stomach, heartbreakingly demonstrating the phantom kicks. "I'll pretend it's him saying hi – it never stops," she wrote.
https://twitter.com/jetpack/status/1357054039020630016
On Thursday, the day of her surgery, she also shared a clip of herself ready and waiting for her surgery. "Endometriosis surgery," she captioned it. "Please endo this pain."
In case you're not familiar with endometriosis, it a condition that impacts 11% of American women between the ages of 15 and 44, according to the United States Office Women's Health. The Mayo Clinic explains that it is an "often painful disorder in which tissue similar to the tissue that normally lines the inside of your uterus — the endometrium — grows outside your uterus." While "kicks" aren't a specific symptom, severe pelvic pain, "often associated with menstrual periods" as well as cramping is. "Although many experience cramping during their menstrual periods, those with endometriosis typically describe menstrual pain that's far worse than usual. Pain also may increase over time," they add.
After taking a brief social media hiatus to deal with the initial grief of losing her son, Chrissy first took a deep dive into her heartbreaking loss in an essay for Medium. "People say an experience like this creates a hole in your heart," she wrote. "A hole was certainly made, but it was filled with the love of something I loved so much. It doesn't feel empty, this space. It feels full."
In late November she opened up about the experience on social media. "When I'm old and grey, I will look back on the last two months as being brutal, exhausting, sad, physically challenging, mentally painful bitches of a couple months. But I refuse to not find humor in both the rage-fits and the outfits," she wrote.
She added that she "already see[s] the leaves as orange instead of grey, realized the sky is indeed blue and not black" and that "horn honks on … forced morning walks" only bring her to her knees "half the time" and revealed that her husband was supporting her through the process.
"I can make it up my stairs only stopping once or twice instead of every other, and can get out of the bathtub all by myself as long as I have the promise John will dry me off," she wrote. "Anyhow the point is, fuuuuuuuuuuuck, I think it's happening."
In December, Teigen shared a photo of her postpartum body, which included a bump, revealing that she would never be pregnant again.
"This is me and my body, just yesterday. Even though I'm no longer pregnant, every glance in the mirror reminds me of what could have been. And I have no idea why i still have this bump, honestly. It's frustrating," she wrote.
She added that she was "proud of where this entire journey took my body and mind in other ways," Teigen added, "I love being pregnant, so so much, and I'm sad I never will be again."
"But I am lucky to have two amazing little ones who are transforming into big little people more and more every single day," said Teigen.