Chrissy Teigen's Daughter Took Zero Sh*t On Her First Day Of School
by Julie Scagell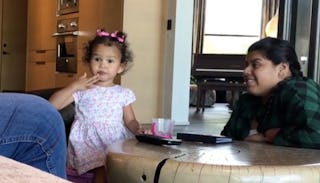 Image via Instagram/Chrissy Teigen
Luna's first day didn't go quite as planned. Or did it?
Back-to-school is in full force for most of us and with that comes first day jitters for both parents and kids. As a parent, you wonder — will your kids make friends? Will they be scared? Will they know where to go? Chrissy Teigen's daughter, Luna, didn't have any concerns — mostly she just wanted to make sure everyone knew she wouldn't be taking crap from anyone.
Teigen has been posting updates on all things back-to-school for little Luna on social media. Last night, she posted a video asking Luna to tell her about her day and it was the stuff of legend.
"Luna what happened today?" Teigen asked. "I fall down my forehead," Luna replied. After reminding the adorable girl that actually happened when the family was on vacation in Bali, she asked again, "What'd you do today?" to which Luna said in a voice that no one could ever, ever be mad at, "I push." When Teigen asked whom exactly she pushed, Luna stared at her mom and said matter-of-factly, "I pushed a boy."
Well, there you have it.
Teigen responded to her daughter's admission in a voice that communicated both, 'That's probably not a good idea,' and 'I need to leave the room before I start laughing,' with a simple, "You did?"
It's doubtful Luna did this out of malice because look at her little face! I picture it happening as she was idly walking around the room like she owns the place and eyed something she wanted to play with. The boy, unfortunately for him, was standing between her and The Thing. Hey, it's not her fault he was in the wrong place at the wrong time. What's a girl to do?
Teigen also shared another pic earlier in the week showing her baby girl reading through a book the family made in case she ever gets sad at school.
It's such a sweet gesture and a great idea for kids starting school for the first time, though it looks like Luna's managing to make the most out of her first week all on her own.