Chrissy Teigen Getting Called Out By Her Kid For Being Late Is All Of Us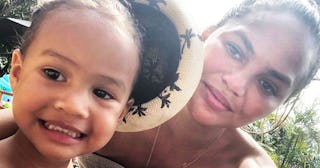 Chrissy Teigen/Instagram
Chrissy Teigen was one minute late to school pick-up and Luna was not having it
A kid will show you yourself like no one else. They have no cares for tact, no appreciation for how hard you're trying, and very little patience. If you do them dirty, even once, you'll hear about it — sometimes in scream-y form — but most disturbing of all is when they show a little restraint before catching you off-guard. Such is the life Chrissy Teigen is leading right now, with a preschool daughter who calmly left the classroom before grilling her mom about why she was late picking her up.
Oh Chrissy. We've been there, sis.
Teigen took to Twitter last night to tell a little tale of being exactly one (1) minute late to get Luna from school. The cookbook author and model explains that when she arrived, the tot was "all sweet in her classroom" but once they were alone in the car, the three-year-old let it rip. "I buckled her in she said 'so why? why were you late?'"
We like to imagine Chrissy was all:
Although we kind of struggle to believe this sweet face could ever get sassy and drag her own mother for filth, we've all been there with similarly cherub-faced kiddos, so we know it's true.
Chrissy seemed pretty stunned by how hard people related to her little tale.
She apparently doesn't realize exactly how many of us get grilled on the regular by a person barely tall enough to ride a merry-go-round.
https://twitter.com/jetpack/status/1177378655821021184https://twitter.com/jetpack/status/1177359522723246080
Nothing quite makes you realize who exactly is in charge like getting lectured by someone who only stopped pooping their pants like, four months ago. Easy there little buddy. And as the mom of tweens, I'd like to say that the toddlers who call you on your bullshit fade out of that behavior as they get older, but nope, they just get better at it. Like, terrifyingly better.
Let's be real — every single mom in the history of ever is late to school pick-up once in awhile, because even with tons of help, like Teigen readily admits she has as a working mom, it's beyond hard juggling it all. Things are bound to slip through the cracks or happen on a brief delay. Y'all little guys best get used to it.
As usual, we are in Chrissy Teigen's debt for proving that it's not just us Normals who struggle to deal with the schedule hell that is parenting — or a tiny voice in the backseat wanting to know why we're slipping.