Chrissy Posts Vid Of Miles Walking And The Pearl-Clutchers Had Thoughts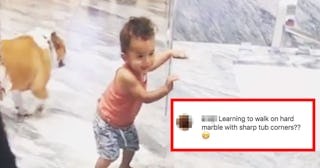 Chrissy Teigan/Instagram
The mom-shamers are coming for Chrissy Teigen over an adorable Instagram video of her son
The perfect parents of the internet are jumping down Chrissy Teigen's throat yet again over a video she posted to her Instagram on Tuesday night. Teigen filmed her toddler son, Miles, who is a new walker, cruising by a marble bathtub and people, er, mom-shamers, had a lot to say.
The clip, in which Miles is in the presence of at least two adults, is totally adorbs. After he manages to take his first few wobbly steps, first holding onto the tub, then plodding around on his own before toppling, everyone cheers, including 3-year-old big sis, Luna. Their pup is hanging nearby, too, just for added cuteness.
In typical Teigen fashion, the mom and cookbook author captioned the video with "Oh it is fuckin ON we are screwed." Because, as any parent who has had a newbie walker knows, life gets freaking complicated once a kiddo is mobile. Those first steps quickly turn to sprints and then, you can never turn your back for a second. Chrissy has, in fact, done this before, you guys.
But leave it to the internet to find the wrong-doing in the adorable video. The judgers were quick to point out that bathtubs are not, in fact, made of silk. Chrissy, didn't you know? They have sharp edges! He could've fallen! Split his head open! Cracked a rib!
And what kind of mother lets a kid walk next to a bathtub anyway? Uh…
The commenters really went full-blast, and it was not nearly as cute as the video. And John Legend wasn't amused.
Chrissy is eye-rolling hard, too.
Unfortunately, Chrissy probably knew to expect the obnoxious onslaught, honestly. She's dealt with more than her fair share of it in the past. But of course, the always-enjoyable star clapped back like she always does, quipping that she just can't understand the impulse to comment such idiocy.
We just love when Chrissy calls it like she sees it. It's truly part of her charm. But don't these silly commenters know by now that Chrissy Teigen don't play?
All moms get judged from time to time. But when you're in the public eye like Teigen, and dare to share bits and pieces of your parenting journey, the nastiness really seems unavoidable. At this point, Teigen seems completely over it and why wouldn't she be? It seems like no matter what she shares, someone is out to criticize the way she parents.
Admittedly, we can all envision scary scenarios happening, especially if they've happened to our own kids before. But that doesn't mean we have to go Instagram-apeshit. Chances are, Chrissy is on top of it, and she's trying to give her kid the space to find his footing. Also, newsflash: kids bump their heads. It's not always a result of horrible parenting, like some of these comments would have us believing.
It's a rough world out there for parents who are just trying to connect and share their kid's cute moments with the world. How about we start giving parents, even celebrity parents, the benefit of the doubt? Please?
This article was originally published on