Chrissy Teigen Asks Twitter For Pregnancy Advice, Twitter Delivers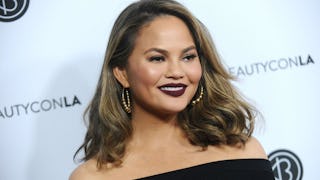 Image via Getty/Jason LaVeris
Teigen asks her fans to weigh in on second pregnancies
Not all pregnancies are the same, even if they're your own. Our bodies can change from the way we carry the baby, to different food aversions, morning sickness, and especially with how quickly we show.
Chrissy Teigen, pregnant with baby number two, had a question for her followers that all of us have wondered at one point if we've had more than one child: "Why in the hell am I showing so early?"
Teigen announced her second pregnancy in the most adorable way last week. Now that she's got another baby on board, her fans know we've got months' worth of hilarious Teigen-style commentary to look forward to. It didn't take long for the observations to roll in, this one about her quickly-growing bump.
"Can someone just be honest with me and tell me if it's normal to get bigger, faster with second baby?" Teigen tweeted. "Because I am getting big, fast, and everyone's go-to is "it's that second baby!" but they're lying. I know it. I can handle the truth just tell me. it's not normal is it."
It is, unfortunately, normal. Annoying, but normal.
Her 8.7 million fans were quick to give her all the facts, share similar stories, and offer words of encouragement:
https://twitter.com/jetpack/status/934917102279933952https://twitter.com/jetpack/status/934932106844786689
And my personal favorite:
https://twitter.com/jetpack/status/934915289845813249
And it's not just Twitter sharing their anecdotes that can reassure Teigen and other moms wondering the same thing — science backs it up. According to the Mayo Clinic, in addition to showing early, women can also look forward to earlier Braxton Hicks contractions, shorter labor, and feeling baby move earlier. The reason for showing earlier may be because "their prior pregnancy stretched their abdominal muscles." Gee thanks, kid.
When I was pregnant with my second I was in an elevator with an older women who said to me, "Ahhh, congratulations, any day now!" I smiled politely and wished her a nice day through gritted teeth. I was only four months pregnant.
Teigen has never been shy about her struggles with infertility and how nerve wracking it can be to be a mom. She's also quick to point out ridiculous mom shamers and gives us all a front row seat to her very public life with husband, John Legend, and daughter, Luna. This is why we adore her so and her latest tweet is another example of how she's just one of us.
Fine, she's a gorgeous, hilarious, former model, cookbook-writing millionaire who can cook up a storm, but whatever, she's close enough. Here's hoping she continues to share all of the frustrating and funny moments of this next pregnancy with the world. It's a far better place with her fun observations in it.
This article was originally published on