Chrissy Teigen Is Every Mom Trying To Get One Damn Photo Of Her Kid Smiling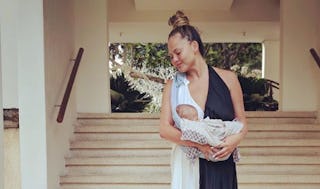 Image via Instagram/Chrissy Teigen
Just when you thought Chrissy Teigen can't get more relatable, she posts about trying to get Luna to smile for a picture
Chrissy Teigen has almost 20 million Instagram followers for a reason: not only is she a wildly successful model and author, but she's also totally real about what it's like being a mom to littles. Yesterday, she took to social media to post a not-so-perfect picture of herself, her new baby Miles, and her two-year-old daughter, Luna.
In the photo, Teigen is standing happily with Miles in her arms while Luna is sitting with a defiant scowl on her face, tiny sandals strewn at her feet. Teigen provided the backstory to the pic.
"Luna. Luna please," she captioned. "Luna one smile. Please for mama. Okay that's fine you don't have to. Don't listen to people that tell you to smile. But please can you smile. No it's ok nevermind. Maybe one smile?"
Every parent of a toddler can relate to this moment of truth: trying and failing, repeatedly, to get a toddler to both smile and look at the camera at the same time. It's the damn holy grail of parenting.
And every mother of a toddler can relate to wanting to ask your little girl to smile, while at the same time knowing that it's a harmful and condescending line that she's likely hear from sexist men for the rest of her life. You want her to smile… but you don't want to tell her to smile, ever.
The 32-year-old Lip Sync Battle co-host and her singer husband John Legend have been on vacation in Bali for the last several weeks. While some of the glimpses into their vacation show that they're living the life of celebrities, they also make sure to show that, just like anyone else with two kids under three years old, their vacations are a lot more like trips. While the family of four is lounging in the sun and eating up a storm with amazing views in the background, they're also navigating the world with a toddler and infant, and all the joys and difficulties that come with it.
Already on their getaway, Chrissy Teigen has posted pictures of her stretch marks while wearing bikini bottoms and discussing body image after birth. She's also posted shots of herself topless and nursing 11-week-old Miles — poolside with along with Luna's babydoll.
It seems like the family is having tons of fun — and they're also not having an absolutely perfect trip, just like anyone else. We're super thankful that Chrissy Teigen is open about everything, and we're also really thankful that it seems like she has gotten one or two pictures of Luna smiling, somehow.