Chrissy Teigen Shares Name And Adorable First Pics Of New Baby
by Jerriann Sullivan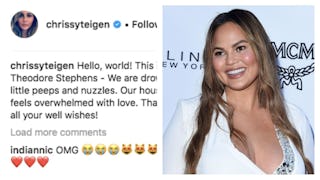 Images via Twitter/Getty Images
Chrissy Teigen and John Legend's son arrived Wednesday evening
Chrissy Teigen and John Legend just shared an adorable photo of their baby boy who joined the world Wednesday evening. Earlier in the week, the model let the world know that their son had arrived with a tweet that said, "Somebody's herrrrrrre!" and we've been waiting for more details ever since.
The proud parents shared the same photo of their baby boy on Instagram. Teigen wrote: "Hello, world! This is Miles Theodore Stephens – We are drowning in his little peeps and nuzzles. Our household feels overwhelmed with love. Thank you for all your well wishes!" Legend wrote: "Our new love, Miles Theodore Stephens." Awww.
Baby Miles is genuinely adorable, which comes as no surprise to fans of the couple who have an equally cute 2-year-old, Luna Simone.
She's famously honest on her social media feeds about her experiences and this time was no different. She shared some aspects of her delivery on Twitter earlier in the week. "I can confirm postpartum life is 90% better when you don't rip to your butthole," she wrote on Saturday night. "Baby boy: 1 point. Luna: 0."
The mom of two also responded to a fan on Twitter who asked if baby Miles looks like his big sister Luna. "Same nose!" Teigen wrote about the siblings. She also added that her son surprised the family. "He is a few weeks early so he's litttttttle and makes the teeniest noises. We are in love." It appears Miles' early birth date was wonderful, too, as the mother didn't report any health-related issues because of his early arrival. A few weeks ago, Teigen shared a moment we bet a lot of pregnant mamas can relate to when she wrote, "Happy pregnant Chrissy is gone. Meet OVER IT Chrissy. Wanna hold my boy let's do thisssssss."
The model and mom also shared the news of her pregnancy on social media months ago and included Luna in the cutest way.
Teigen has been pretty upfront about her experiences with pregnancy, labor, and motherhood. "John and I were having trouble. We would have had kids five, six years ago if it had happened," she said. "But my gosh, it's been a process." She's previously shared her thoughts on IVF treatments saying, "You don't want to get your hopes up, but of course, you do."
Since the mother of two is famously open about her family life, it's safe to say we'll be seeing more adorable photos of baby Miles and big sister Luna.
This article was originally published on