Chrissy Teigen's Awesome Maternity Style Takes Advantage Of All The Stuff You Can't Wear Post-Baby
by Elizabeth Licata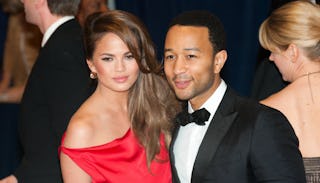 Chrissy Teigen's maternity style proves pregnancy is the best time for a last hurrah of red lipstick and dangling earrings.
The magazines and websites of the world are full of misguided maternity fashion advice telling pregnant women what not to wear, which is silly, because pregnant women can wear whatever the Hell they want to. Pregnant women look great in skinny jeans, baggy jeans, mini skirts, crop tops, and even leggings as pants. The people who actually need help are the women with newborns, because there's a lot of stuff a person can't wear when she has a newborn with grabby little hands all in her face, and that's one of the reasons supermodel Chrissy Teigen is one of the best there is at maternity dressing, because in all her latest red carpet photos, it looks like she's been enjoying her last hurrah for red lipstick, dangling earrings, and all the other fun clothes a person can't wear while she's hauling a newborn around.
Last night at a pre-Grammy party with her husband, John Legend, Teigen wore a slinky, shiny dark green gown that clung skin-tight to her baby bump. It's a great look for her. Spandex is a pregnant woman's best friend.
She was also rocking a gorgeous dark red statement lip, and I hope she really enjoyed that lipstick color, because it's going to be damn near impossible to wear once her baby is born. Babies like to be held close to one's face and kissed a lot, and one generally does not want to smear her new baby with red lipstick, no matter how on-trend the color might be.
Also, babies are absolutely fascinated by red lipstick. If Teigen wore that lipstick near an actual baby, a little baby hand would reach out and grab her lips and smear that pretty lipstick all over Teigen's face, the baby's own face, the wall, etc. (It took me a while to figure that lesson out, which is why my walls are covered in tiny red handprints as though I live on the set of a Japanese horror movie.) This isn't the first time Teigen has demonstrated that the best maternity dressing involves taking advantage of all the stuff you won't be able to wear for a while. Just recently she posted a photo of herself standing in a gutted kitchen wearing a white crop top and cut-off jean shorts. She looked great, but that outfit is probably also getting put in the closet until her baby is at least two.
Crop tops look great on pregnant ladies. Pregnant bellies look cool, and it's always great to see a DNGAF pregnant woman wearing a crop top like, "Whatever! Here is my giant pregnant belly. I look awesome and don't care what you think." Whenever I see them, I want to give them a high-five.
White frilly blouses, however, are virtually impossible to wear while one is leaking breast milk all over one's swollen, hollowed-out postpartum belly. I don't remember the last time I wore a blouse that was dry-clean only, but it was definitely before I became someone's mother. Wear 'em if you've got 'em, pregnant ladies, because I don't think my mother managed to wear a white silk blouse without getting handprints on it until my younger sister left for college.
Finally, Teigen shows off an envy-inducing pair of giant shoulder-duster earrings, and if there is any item of clothing in the world that begs to be grabbed and yanked by tiny human beings, it is a big, sparkly pair of dangling earrings.
Chrissy Teigen is a famous supermodel who will probably be back on the red carpet with red lips and dangling earrings in no time after she has her baby, but for those of us who don't have glam squads and a professional responsibility to get dressed up all fancy, the third trimester is a good time to take all those fancy clothes out for one last spin. We probably won't see them again until the toddler years are over.
This article was originally published on