Astronaut Christina Koch Filmed Her Reunion With Her Dog After A Year In Space
by Madison Vanderberg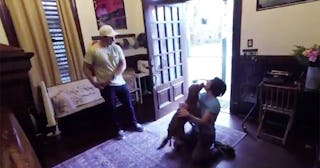 Christina H Koch/Twitter
Christina Koch shared her sweet reunion with her dog after she returned from a nearly year-long space flight
NASA astronaut Christina Koch just spent nearly 11 months (328 days, to be exact) in outer space (breaking the record for the longest spaceflight by a woman, by the way), and when she returned to Earth, the first thing she did was reunite with her doggie Saddie Lou, who was so excited to see her. Actually, this little doggie wasn't just excited to see her owner, the dog lost its damn doggie mind.
"Not sure who was more excited," Koch wrote on Instagram. "Glad she remembers me after a year!"
"That's Sadie Lou, our LBD (little brown dog)," Koch wrote. "Best breed for a best friend."
Little Sadie Lou was doing what I call, "the wiggle butts." It's when a dog is so happy that they wiggle their tail so enthusiastically that their whole butt moves too, hence "wiggle butts."
The video looks like it was taken from an in-home doggie cam and shows Sadie Lou standing at the door as Christina is walking up to the house, her tail going a mile a minute. Once Christina comes inside the house, it's all over for little Sadie. Pants, licking, kissing, yelping, wagging — all of it. The entire video is a Valentine's Day miracle.
"After 328 days in space, the first six days back on Earth were full of just as much wonder and excitement," Koch said in a press conference, via CNN. "We all live on a wonderful planet and it's great to be back. To see your favorite animal is a symbol of coming back to the people and places you love."
Koch just returned from the second-longest spaceflight in NASA history, having been in outer space since March 14, 2019. While there, she went on six spacewalks — including the first three all-woman spacewalks — and spent more than 42 hours outside of the International Space Station, which according to NASA, places "her seventh on the list of American space travelers with the most time in space."
Although we're very interested in Koch's relationship with her dog post-space flight, her work among the stars will be the key to someday sending people to Mars. Per NASA, "Koch participated in experiments that will provide researchers the opportunity to observe effects of long-duration spaceflight on a woman. This will directly benefit the agency's plans to land the first woman and next man on the Moon under the Artemis program and prepare for human exploration of Mars."
A history-making, ceiling shattering, dog-loving icon. We love to see it.
This article was originally published on