'The Christmas Chronicles 2' To Star Real-Life, Iconic Couple, Kurt Russell And Goldie Hawn
by Kristine Cannon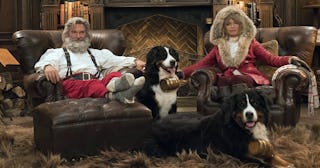 Netflix
You know what they say: Third time's the charm. Or, in the the case of Hollywood's most iconic couples Kurt Russell and Goldie Hawn the fourth time's the charm. It's been more than 30 years since the couple of more than 35 years has starred in a film together (Overboard in 1987); and in 2020, they'll team up once again for The Christmas Chronicles 2, the sequel to Netflix's hit 2018 holiday film about two kids who, on Christmas Eve, join forces with Saint Nick (Russell) and his eyes to save Christmas.
In The Christmas Chronicles 2, Hawn will take on the role of – you guessed it – Mrs. Claus. The sequel finds Kate Pierce (played by HBO's Big Little Lies Darby Camp) unexpectedly reunited with Santa Claus (Russell), when Belsnickel threatens to destroy Christmas. The Office fans can skip this next part, but for non-fans: Belsnickel, based out of Germany, is basically a dirtier, more crass version of Santa Claus. Playing Belsnickel in the sequel is a familiar face, too: Deadpool 2 and The Hunt for the Wilderpeople star Julian Dennison. Kimberly Williams Paisley, who plays Claire, and Judah Lewis, who plays Teddy, will return for the sequel, and Atlanta's Jahzir Bruno will play the character of Jack.
In addition to Hawn, the sequel will have a new director. Instead of Clay Kaytis, who directed the first film, Harry Potter and the Sorcerer's Stone and Harry Potter and the Chamber of Secrets director Chris Columbus will direct the sequel.
For those who haven't seen The Christmas Chronicles, you were apparently one of the very few who missed it last year. In the first week, the movie was streamed 20 million times. If you were to compare that to the first week of a traditional theatrical release, that's a gross of $200 million.
"Even in his successful career, [Russell] has never had that many people see one of his movies in the first week ever," Netflix Chief Content Officer Ted Sarandos told Business Insider last year. "Even movies that go on to $1 billion don't typically do that in the first week."
What really drew viewers in and kept them watching was, of course, Russell – and fellow Scary Mommy writer Clint Edwards put it perfectly: "The real charm of this movie isn't exactly the plot; it's Kurt Russell playing Santa. He adds this determined edge to the film that makes the character all the more believable."
So, what are you waiting for? Watch it tonight or queue it up for Christmas Eve or Christmas Day. Either way, you'll want to catch this holiday Netflix flick before the sequel premieres on the streaming platform next year.