HOA Tells Pregnant Woman It's Too Soon To Have Her Christmas Decor Up
by Madison Vanderberg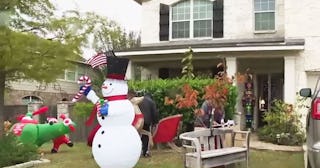 The National Desk/Youtube
This may read like a Christmas joke but it's not: San Antonio family told to take down their Christmas decorations by homeowners association
One festive family is in hot water with their homeowners' association for apparently putting out Christmas lawn decorations too early. The Simonis family from San Antonio, Texas decorated their front yard with a snowman, some reindeer, and an inflatable Santa helicopter on November 1, 2019, only to receive a notice from their HOA that they needed to take it down.
On November 4, just three days after the decor went up, the family received a notice that read: "Maintenance – Holiday Decorations Need To Be Removed" and asked the family to "please remove the snowman until closer to the holiday season."
We're pretty sure the Simonis family isn't the first to decorate their lawn in November, so it's wild that their neighborhood homeowners association took such offense. Also, Claudia Simonis is eight months pregnant and November 1st was the only time she could comfortably decorate her lawn for the holidays.
"I feel kind of heavy, so the earlier we can put out the decorations, the better," Claudia told local NBC News affiliate WOAI. "Because probably in two more weeks, I'm not going to be able to build all this."
The family rightfully took offense to the HOA's demands that they should remove all their decor and then resurrect it "closer to the holiday season." "They didn't even clarify what day that is," Nick Simonis added.
"I just found it crazy," Claudia added. "Especially that they didn't give us a time. Like, when is the right time to put it?"
The best part? The Simonis family says they have no plans to take their decorations down. "We're not going to do it," Simonis said. "It's the Christmas spirit. We're not going to be forced by the HOA to take it down."
Not only that, but their neighbor Charles Minton said he quickly put some penguins up in his yard in solidarity with the Simonis family.
"I don't think this should be an issue," Minton added. "These are the holidays. This is what we do. We take care of our neighbors. That's what a neighborhood is about."
It's insane to tell someone they can't put decorations out on the first of November, especially when retailers start rolling out the decor in October. Plus, experts say that putting up Christmas decorations can make you happier.
"In a world full of stress and anxiety people like to associate to things that make them happy and Christmas decorations evoke those strong feelings of childhood," Steve McKeown, Psychoanalyst, told UNILAD. "Decorations are simply an anchor or pathway to those old childhood magical emotions of excitement. So putting up those Christmas decorations early extend the excitement!"
Take that Mr. Scrooge homeowners' association in San Antonio!
This article was originally published on