23 DIY Christmas Photo Booth Ideas To Help Capture Holiday Cheer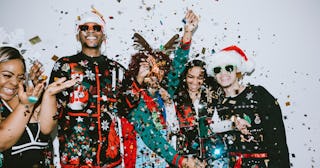 RyanJLane/Getty Images
ICYMI, photo booths are still fantastically popular at weddings. And why not? It's a fun, affordable way to commemorate your special occasion. But who says they can't extend to a Christmas party? Whether you're throwing a festive fête at the office or at home, a Christmas-themed photo booth can add memorable fun. If you wait until the last minute, though (hey, no judgment — we've all got a lot on our plates during the holiday season), you'll wind up with a backdrop consisting of a few strands of tinsel taped to construction paper. Sure, that could make for some hilarious photo opps. However, having some solid Christmas photo booth ideas in your back pocket can save you a lot of stress. Plus, you know, bring that extra bit of cheer to your next holiday gathering.
If the thought of coming up with them yourself is giving you a planning-ahead headache, fret not; you'll find a whole bunch of ideas below. And if you want even more reasons to make folks smile, you can throw out a funny Christmas joke, Christmas pick-up line, dirty Christmas jokes (for the grown-ups, obviously), or hilarious Christmas quote right before the camera clicks to capture all those happy faces.
Easy DIY Christmas Photo Booth Ideas
Start With a Photo Booth Background
The first aspect of any photo booth is a background — it helps create depth and also just helps delineate where the booth is and where guests should stand.
1. Use Wrapping Paper
Gift wrap is going to be the cheapest, easiest option. Find something festive and buy a roll or two. Then just tape it securely to the wall and there you go!
2. Put a Christmas Tree in the Booth
3. Paint a Wintry Scene on Craft Paper
Craft paper is so cheap and versatile. You could also use it to wrap presents and cover your food table. To use it for a backdrop, start simple: Massive trees are your friend.
4. Consider Fringe
When it comes to our hair, we know that fringe is always a bad idea. For a backdrop, though, it adds a level and an easy, fun texture.
5. Create a Vignette
We've all seen those gorgeous family Christmas photo sessions with their luxurious DIY backgrounds and thought, "I could totally do that with the right setting." You can.
6. Go Bow Crazy
Grab bows that fit your color scheme or just go wild and wacky with any old, colorful bows you have (plus probably plenty of new ones.) Leave new drywall exposed.
7. Use Ornaments
How many ornament storage bins do you have? If your attempts to have a Martha Stewart-esque stockpile of ornaments in every color turned into a bit of a problem, try using them beyond the tree.
8. Create a Starry Night
Want to add a little romance to your holiday party? The "Starry Night" theme worked for prom; it'll work here, too. Make these gorgeous origami stars in on-theme colors and use them to decorate your backdrop.
9. Make or Buy a Face-in-Hole Board
Let your friends turn themselves into gingerbread men, snowmen, or both. Whether you make your own or buy one, they're a ton of fun.
10. DIY Streamer Background
Got a ton of streamers left over from parties long ago? Here's a simple, colorful trick to yet another backdrop option.
Don't Forget Props
11. Collect What You Have
A strand or two of white or colored lights can add a fun effect to any shoot. Sparkly garland thrown around necks and over shoulders can also be festive. You might even want to consider a collection of (unbreakable) ornaments because you never know who might be able to juggle.
12. DIY Some Paper Stick Props
You can buy these, of course. But, if you have some extra time, why not make them? DIYing your props is especially handy when you decide to be extra trendy and think beyond the red and green color scheme. Good luck finding cute mint green bowtie or white marble cat-eye glasses props. You're going to have to make your own.
13. Don't Forget the Headbands
Cute and kooky! What more can you want?
14. Invest in a Few Fun Pieces
Got a Santa beard in that box of props? How about several matching or wildly different Santa hats? Maybe even go out and grab a few truly ugly winter coats.
15. Create Action
Add a bubble gun, some silly string, some fake snowballs, or even small pouches of confetti.
16. Include the Absent
My favorite holiday picture from Christmases past? The one where a twenty-something-year-old cousin was living abroad and missed the party. Someone held up his high school graduation picture when the other 14 of us collected for a family picture. Embarrassing for him. Hilarious for us.
17. Save the Date
Whether you include the year on your backdrop or just pick up some of last year's NYE glasses, make sure every photo has a way to help you remember which year the pictures are from.
18. Have "Drinks"
Whether you include some empty Starbucks cups or some tacky beer steins, give your friends a chance to make a toast in their picture.
19. Frame It
Buy some cheap frames (or make your own) in a couple of the bigger sizes and consider painting them to match your theme or color scheme. This way, your friends can have a better idea of just how tight they might need to squeeze together, too. This can also work in place of a background.
20. Play Up the Angels/Silent Night Theme
How about some angel wings and a halo? Or some battery-operated candles and some makeshift white choir robes?
21. Mistletoe
If you have pets, go with fake. A small bunch of mistletoe goes a long way in a photo booth, though.
22. Bring the Outdoors In
Got one of those large plastic, light-up nutcrackers? What about a blow-up Rudolph? If you have the space to keep it near your photo booth, you can expect plenty of shenanigans.
23. Make It Social
No, your office party hashtag is probably never going to go viral. But hashtags are more than that — they're a way to collect posts with a common theme, like #ScaryMommyClaus21. Having all your photo booth pics in one spot allows for everyone to check out all the other photos taken. It also makes it easier for you to find and share pictures for those with FOMO.
This article was originally published on