Want more cheer this merry season? Check out our collection of Christmas jokes for kids, Christmas riddles, touching Christmas quotes, Christmas photo booth ideas, even Christmas pick up lines, and so much more. 
The holiday season can feel overwhelming for so many reasons. There's the insane Black Friday shopping marathon, the pressure to give the kids a Pinterest-worthy holiday season, and all the guests and family members you're not that fond of. Ugh. Wasn't Christmas supposed to be full of  fun and games? Here's the thing, though: You're not alone. These pithy and funny Christmas quotes and sayings are proof of exactly that. Are you arguing over how to put that overly-complicated play kitchen together? Or simply sitting by the fire, preparing yourself for round-one-million of moving the Elf on a Shelf around in your home.
Either way, these quotes from comedians, authors and other famous (or at least semi-famous) people will be super relatable. And oh-so-funny.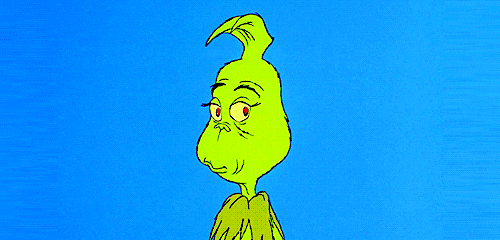 Funny Christmas Quotes And Sayings
1. "I like to compare the holiday season with the way a child listens to a favorite story. The pleasure is in the familiar way the story begins, the anticipation of familiar turns it takes, the familiar moments of suspense, and the familiar climax and ending."
– Fred Rogers
2. "Pets, like their owners, tend to expand a little over the Christmas period." – Fanny Wright
Funny Christmas Quotes That Put The "Bah" in "Bah Humbug!"
3. "My husband's idea of getting the Christmas spirit is to become Scrooge."
– Melanie White
4. "A lovely thing about Christmas is that it's compulsory, like a thunderstorm, and we all go through it together." – Garrison Keillor
5. "Next to a circus there ain't nothing that packs up and tears out faster than the Christmas spirit." – Frank McKinney Hubbard
6. "That's the true spirit of Christmas; people being helped by people other than me."
– Jerry Seinfeld
7. "Christmas is a baby shower that went totally overboard." – Andy Borowitz
8. "Santa Claus has the right idea. Visit people only once a year." – Victor Borge
9. "Adults can take a simple holiday for Children and screw it up. What began as a presentation of simple gifts to delight and surprise children around the Christmas tree has culminated in a woman unwrapping six shrimp forks from her dog, who drew her name." — Erma Bombeck
10. "At Christmas, tea is compulsory. Relatives are optional." – Robert Godden
Funny Christmas Sayings About Parenting At Christmas
11. "There are three stages of man: he believes in Santa Claus; he does not believe in Santa Claus; he is Santa Claus." — Bob Phillips
12. "One of the most glorious messes in the world is the mess created in the living room on Christmas day. Don't clean it up too quickly." — Andy Rooney
13. "The principal advantage of the non-parental lifestyle is that on Christmas Eve you need not be struck dumb by the three most terrifying words that the government allows to be printed on any product: 'Some assembly required.'" – John Leo
14. "Nothing's as mean as giving a little child something useful for Christmas." – Kin Hubbard
15. "Christmas to a child is the first terrible proof that to travel hopefully is better than to arrive." – Stephen Fry
16. "I once bought my kids a set of batteries for Christmas with a note on it saying, 'toys not included.'" – Bernard Manning
Quotes About Christmas Presents and Holiday Shopping
17. "Keep your friends close, your enemies closer, and receipts for all major purchases." – Bridger Winegar
18. "The worst gift is a fruitcake. There is only one fruitcake in the entire world, and people keep sending it to each other." – Johnny Carson
19. "There are 17 more shopping days until Christmas. So, guys, that means 16 more days till we start shopping, right?" – Conan O'Brien
20. "Once again, we come to the Holiday Season, a deeply religious time that each of us observes, in his own way, by going to the mall of his choice." – Dave Barry
21. "I love Christmas. I receive a lot of wonderful presents I can't wait to exchange."
– Henny Youngman
22. "Probably the reason we all go so haywire at Christmas time with the endless unrestrained and often silly buying of gifts is that we don't quite know how to put our love into words." – Harlan Miller
Funny Christmas Quotes About Decorating (Kinda)
23. "I haven't taken my Christmas lights down. They look so nice on the pumpkin."
– Winston Spear
24. "There's nothing cozier than a Christmas tree all lit up." ― Jenny Han
25. "The outdoor Christmas lights, green and red and gold and blue and twinkling, remind me that most people are that way all year round — kind, generous, friendly and with an occasional moment of ecstasy. But Christmas is the only time they dare reveal themselves." – Harlan Miller
26. "I don't want Christmas season to end, because it's the only time I can legitimately indulge in one particular addiction: glitter." – Eloisa James, Paris in Love
27. "Never worry about the size of your Christmas tree. In the eyes of children, they are all 30 feet tall." – Larry Wilde