Christmas Tree Farm Goes Viral After Dudes Do 'Magic Mike' Inspired Dance
by Madison Vanderberg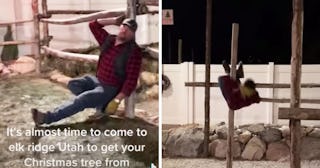 FOX 13 News Utah/Youtube
Christmas tree farm goes viral after lumberjacks perform sexy TikTok dance
A tree farm in Utah is going viral because the lumberjacks that work on the farm decided to serenade the people with an all-male ~sexy~ dance revue a 'la Magic Mike amid the Christmas trees, and I'm not mad at it.
Derek Peterson, owner of Peterson Tree Care in Elk Ridge, Utah had a fantastic year in December 2020, selling out his lot of Christmas trees in a "record-breaking 11 days," so to thank the community for their patronage, he and the bros that work at the lot decided to do a sassy strip-tease-esque performance to Bishop Briggs' "River" and share the video on social. And when I say "sassy," I mean, you've got guys straddling tree trunks, you've got lumberjacks sliding down poles, you've got men chopping down trees seductively…it's…fantastic.
"We want to thank you all for supporting us this year," Peterson wrote alongside the sultry video last Christmas. "We sold out in a record-breaking 11 days. As a result, we wanted to send you all a very special Christmas video. Introducing, for one night only, 'The Peterson Tree Lot Boys' 2020."
As for the inspiration behind the video, one has to wonder if the tree lot employees are trained exotic dancers? Did Peterson used to do acrobats in a past life? No, it's way simpler than that. Peterson told Fox 13, "I happen to just be driving down the road and that song came on and I thought, we oughta do a dance to that." Bless this simple man who just wanted to do some sultry moves with his boys.
"We did a rehearsal a few days before and the guys weren't really into it that much. We got him to get on the pole and do an inverted spin, it was kind of that moment we knew we had something special," he added. To be a fly on the wall at that "rehearsal."
The video was such a hit that the tree lot owner brought it back this year to jumpstart the holiday season. After sharing it on TikTok, the video quickly racked up over a million views. Naturally, the TikTok account is called "Tree Men In Plaid."
I'm not shocked this video has gone viral because it checks out two of the major sexy categories: lumberjacks and dudes who can dance like Channing Tatum.
"Last few days it pretty much just went viral, it's just been kinda crazy," Peterson shared. "I thought it'd be kinda funny, I didn't think it'd be that funny. It's crazy, the comments are probably the funniest part about it all."
He said the video has done so well that women from New York have threatened to get on a bus and make the trek out to Utah to buy one of his trees. Oh and Peterson told the local Fox affiliate that yes, the dudes will be making a new dance for 2021. Hit that follow button.