Christmas Trees Are More Expensive Than Ever And You Can Technically Blame Millennials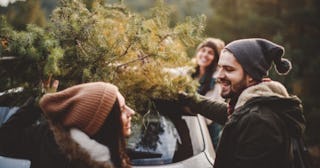 Getty Images
Millennials are buying more Christmas trees than ever before, making them partially to blame for the surge in prices
Thanksgiving is officially over, which means one thing: millions of people are flocking to Christmas tree farms, Home Depot, or the local plant nursery to select their annual Christmas tree. However, before you start browsing through all the Noble, Douglas, and Frasier Firs out there, you might be a little shocked when you look at the price tags. According to experts, Christmas trees — both real and fake — are more expensive this year than ever and you can blame the 2008 recession and millennials for the bloated cost.
According to a new report from USA Today, real trees are up to $10 more this year and artificial more than $20, as this year is expected to be the "most expensive season for Christmas trees in history," a data analyst at Square, a San Francisco-based payment system, told the news outlet.
One of the reasons why Christmas trees are so expensive this year is because of a boom in sales from millennials, who are settling down, having kids, and starting families. CNN reports that millennials are buying more trees across the board, real and fake. The environmentally-conscious millennial generation does opt for fake trees because they want a renewable option, but they're also going for the real thing and Square reports that there has been a 10 percent increase in real tree sales over the last five years, with a whopping four million more real trees sold in 2018 than 2017.
As for the increase in real tree prices, it's because suppliers can't keep up with the heightened demand — mostly because Christmas trees can take up to ten years to grow.
"Some Christmas tree growers have fewer trees to sell this year than they wish they had. They have fewer trees to cut than in years past," spokesman for the National Christmas Tree Association, a trade group that represents about 5,100 growers, told USA Today.
While certain states were hit the hardest — such as Oregon and North Carolina — they are responsible for shipping trees around the country.
In addition to the increased demand from millennials, the decrease of supply can be explained by the Great Recession a decade back. Because consumers were spending less on trees back then, growers stopped planting as many seeds.
"In 2008 when the recession hit, people either got out of the business or couldn't afford to plant, so they didn't. Now, we're seeing the fruition of that because it takes about 8 to 10 years to grow a Christmas tree," Gerrit Strathmeyer, co-owner of Strathmeyer Christmas Trees in York County, Pennsylvania, explained.
According to the National Christmas Tree Association, in the last decade, the average price of a live tree has inflated from $36.50 in 2008 to $78 in 2018. From 2017 to 2019, the price has ballooned from $75 to $81. The supply shortage is also dependent on variety. For example, the Fraser fir, the most popular type of tree, is in the shortest supply.
Tree farms believe they will have enough Christmas trees for everyone, but encourage people to make their purchases earlier rather than later. As for fake trees, USA Today adds that they're expected to be even more expensive next year due to recent importing tariffs due to go into effect December 15 — so basically, if you are on the market for a fake tree — like these ombré ones we are TOTALLY obsessed with — buy it asap!
This article was originally published on