Christopher Meloni Will Reprise His Role As Elliot Stabler In 'SVU' Spinoff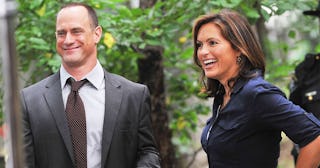 Bobby Ban/Getty
Detective Elliot Stabler is coming back into our lives right when we need him most
Being stuck at home for weeks on end is hard. It seems the news is an endless cycle of grim statistics and scary projections about how long we will be living in isolation amid the coronavirus pandemic. Apparently Dick Wolf heard our anguished cries for something to look forward to while the world seems endlessly bleak, because we get Detective Elliot Stabler back in our lives. Yup, you read that right — Christopher Meloni is set to reprise his iconic role in a Law & Order: SVU spinoff.
I know. Take all the time you need.
Deadline brings us the good news of Detective Stabler's return in the form of a 13-episode series order to a new Dick Wolf crime drama series. The new show will star Melonni as the head of the NYPD organized crime unit and it's the first show to come from a huge deal Wolf signed with Universal Television last month. It includes multiple series and will span the next five years.
While right now reports say the series "could" be branded as part of the SVU universe, I'd say the fact that Detective Stabler is back and the show is still set in NYC means that's a definite. Anyone else already dreaming of all the crossover cases that could involve one Olivia Benson?
The chemistry between Benson and Stabler is a large part of what made the series so beloved among fans. We haven't seen the unstoppable duo working a case together since 2011 when Meloni exited SVU after 12 seasons, breaking the hearts of fans everywhere.
Seriously — they need to be reunited.
By the way — over the last 10ish years, Mariska Hargitay has slayed in her role as Benson, even without her Stabler. The show just celebrated 21 seasons making it the longest running prime time drama.
As for what the good detective is up to currently? In quarantine with his kids just like the rest of us.
https://www.instagram.com/p/B-YBoQHgOkU/
Just bored and growing a beard — which is absolutely fine with me.
The new show is still in the early stages, so there's no release date yet. Hopefully, they can rush this to our TV screens because our quarantine lives could certainly use a big dose of Detective Stabler.