If I'd known how much better my skin would feel after such a short time using this system, I would have bought one ages ago.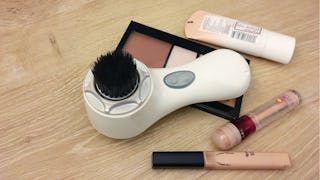 Sara Farrell Baker
The absolute dead-last thing I feel like doing every night before I crawl into bed is washing my makeup off. I know that if I sleep in it, my skin is going to feel gross, my eyelashes will be brittle, and I'll have some fresh face volcanos to deal with. But the known consequences still rarely stir the gumption necessary to take the time to properly cleanse my skin when I'm exhausted, because motherhood.
But after hearing countless beauty editors and friends sing its praises (and eyeing it for a long time), I started using the Clarisonic Mia 2 when Clarisonic was kind enough to send me one to try. The Mia 2 is an electronic cleansing system that uses pulses and vibrations, along with brushes designed to address several skin concerns, to give your face a deep clean that is six times as effective as washing with hands alone.
After washing with the Mia 2, my skin didn't just feel cleaner — it felt like better skin. It didn't feel like it had lost any moisture, and there was no post-soap feeling. It just felt impeccably clean, and I thought, "Oh, this is how my skin is supposed to feel."
Washing my face has turned into much less of a chore — overnight. It no longer feels like a chore to remove my makeup and the day's grime. And if I'd known how much better my skin would feel after such a short time using this system, I would have bought one ages ago.
The best part, though? Oh yes, there is a better part.
I was also lucky enough to try out a new brush for the Mia 2. As I said before, there are several brushes available, and their newest is the Sonic Foundation Makeup Brush (available exclusively on Clarisonic's website and at Ulta). As much as the Mia 2 is a game changer for your skincare routine, this makeup brush is a game changer for applying your makeup.
My bathroom cabinets are full of makeup and applicators. When I have time to apply a full face of makeup, I use my brushes to blend my foundation, concealer, and bronzer, and then do my blush and highlighter. But most days, I don't have a lot of time and am lucky to get a little bb cream and concealer on with just my fingers. Touching your face with your fingers is great for your skin, by the way. (That's a lie. Big, big lie.)
The first morning that I tried to Sonic Foundation Makeup Brush, I was able to blend my foundation with the spinning brush head in seconds. My face wasn't streaky or splotchy.
When I applied my concealer, just holding the brush over whatever I was trying to conceal while it spun blended it perfectly. You couldn't tell where I had applied any of it.
You can even apply all of your face makeup, like foundation, blush, bronzer, and highlighter at once and have it blend perfectly in under 60 seconds. This brush cuts down my time spent getting ready in the morning, and as a mom with two kids under 5 years old, I need every spare moment I can get.
So, faster makeup application and faster makeup removal. The Clarisonic Mia 2 and its Sonic Foundation Brush are it. Two tools I will be keeping in my mom essentials tool box.
This post contains affiliate links, which means we receive a small portion of the sale if you make a purchase using these links. Products were received from Clarisonic prior to writing this article, but all opinions are my own.
This article was originally published on