Claudia Conway Has Talked About Emancipation — But What Does That Actually Look Like?
by Kimberly Zapata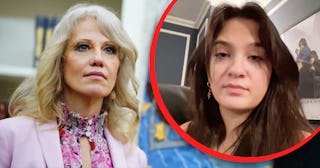 MANDEL NGAN/Getty and Claudia Conway/Tik Tok
Whether you've followed her story or not, there's a good chance you know Claudia Conway's name. The 16-year-old daughter of George and Kellyanne Conway was thrust into the spotlight at a young age, when her mother began working for (and with) Donald Trump. She's a vocal liberal, one who is very active on social media, and she takes no shit. She has very strong opinions. She's also been in the news as of late.
On January 19, Claudia released audio of her mother allegedly abusing her. Audio which — I might add — is very disturbing. On January 26, Claudia found herself in the news again, when Kellyanne allegedly posted a topless photo of her on Twitter's "Fleet" feed. The image was removed, but not before it was both seen and documented. And in August, the teen announced her plans to pursue emancipation, alleging "years of childhood trauma and abuse."
"I'm officially pushing for emancipation," Claudia said in a tweet on August 22. "Buckle up because this is probably going to be public one way or another, unfortunately. Welcome to my life."
But what is emancipation? Here's everything we know about the process.
What is emancipation?
While the process of emancipation is lengthy and complex, the premise behind it is simple. Emancipation is the legal mechanism by which a child (or minor) is separated from their parents or guardians. In the eyes of the law, emancipated minors can perform most tasks. They can rent or buy property, enroll in school, and apply for a work permit. They can also keep any and all income earned. Emancipated minors can make healthcare decisions by and for themselves and sue (or be sued) in the courts, and in some states, they can marry without parental consent.
"Emancipation is, in short, the legal process by which a juvenile seeks to terminate his or her legal relationship to their parent(s) or guardian(s)," Penelope Hefner of Sodoma Law Union tells Scary Mommy.
How does the process work?
Eligibility for emancipation varies by state, but minors can (usually) seek emancipation for one of three reasons: they are getting married, joining the military, and/or have obtained a court order.
"A juvenile who is 14 to 16 years old (depending on the state) or older can petition the court for emancipation," Hefner explains. "The court will consider the statutory grounds, which may include abuse and/or neglect, and if the court finds satisfactory evidence of some or all of these factors, they will enter a decree emancipating the juvenile. At that point, the parents/guardians will have no rights to the juvenile or any responsibilities owed to that juvenile."
However, the process is not easy. In most cases, minors must first petition the courts — or create a document outlining why they want to be emancipated. They must then notify their parents. A hearing must be scheduled and attended, and once the minor's case has been heard (and the parents have spoken), the courts will issue a ruling. A Declaration of Emancipation will (or will not) be issued.
On what grounds and/or for what reasons may a child pursue emancipation?
As mentioned above, a child can be emancipated for several reasons; however, in order for a child to pursue emancipation through court order, there needs to be adequate evidence and/or proof that doing so will serve the young person's best interest.
"Some of the grounds for emancipation could be the juvenile's ability to function as an adult, the existence and extent of familial discord — which would seem to be particularly applicable to the Conway case — the juvenile's need to operate and enter into contracts as an adult, and the quality of the juvenile's parental support — financially and emotionally," Hefner explains.
What other legal options are available to abuse and/or neglected children, young adults, and teens?
While emancipation may seem like the best path for victims of child abuse and neglect, there are other options. "Alternatives range from reunification therapy to try [to] repair the damaged relationship to living with another responsible adult. Seeking assistance from public agencies, such as the Department of Social Services, can also be helpful" Hefner says. Getting counseling for yourself and your family is key. That said, if you are in immediate danger, you can and should call 911 or tell a trusted adult. You can also call the Child Help hotline for immediate assistance at 1-800-4-A-CHILD.
For more information about emancipation, consider speaking with a family law attorney near you and/or research the rules and regulations in your state. For more information about child neglect and abuse and how to protect yourself or someone you love, call the National Domestic Violence hotline at 1-800-799-SAFE or Child Protective Services. Numbers vary by state.
This article was originally published on