'Clueless' Is Coming Back To Theaters For 3 Days Only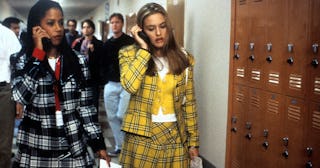 Archive Photos/Getty
'Clueless' will be back on the big screen for three days only
As if! The iconic 1995 hit Clueless is coming back to theaters to celebrate its 25th anniversary and like, we're totally buggin'.
The Beverly Hills High Class of 1995 featuring beloved characters like Cher Horowitz (Alicia Silverstone), Dionne Davenport (Stacey Dash), Tai (Brittany Murphy), Josh (Paul Rudd) and the rest of the gang will be on the big screen for an entire new generation to fall in love with them — or just us 40-year-old women who still adore the classic movie. The Amy Heckerling-directed hit will ring in 25 years of being the '90s teen film with a three-day run only this May.
Fathom Events and Paramount Pictures are teaming up to make this dream a reality and fans of the film (so everyone) can purchase tickets now to score yourself a seat when it comes out May 3, May 4, and May 6 in more than 600 movie theaters nationwide.
But wait, there's more.
After the film there will be a featurette highlighting all the amazing slang created by the movie (think "riding the crimson wave," "Baldwins," "totally buggin'," and the real definition of a Monet). If you haven't slid through a stop sign and said, "I totally paused," you have not lived.
The film was originally released in July 1995 and was loosely based on Jane Austen's Emma. It's one of those movies you can watch over and over and it seems to get better every time. Plus, any movie that stars Wallace Shawn at the center of a love story is worthy of multiple viewings.
"Whether you're seeing it for the first or the hundredth time, Clueless remains one of the funniest and most charming movies — while never losing its satirical bite or wonderful view of the world as it existed 25 years ago," Fathom Events stated. "We couldn't be more delighted to bring it back to the big screen if Cher herself had asked us."
Of course, you could totally watch it at home but spending a night out with friends, some popcorn, (a glass of wine if your theater allows) and a whole lot of laughter sounds like reason enough to put some pants on. Plus, any chance to see the late Brittany Murphy again is time well spent.
As enviable as Cher's closet, her soft side of matchmaking is what fans really fell in love with. That and the fact that she gets the guy in the end (and that guy is Paul Rudd) makes the whole experience totally tubular.
To see if your neighborhood theater is one of the lucky ones offering the special viewings, visit the Fathom Events website, enter your zip code, say a little prayer, and get your tickets now.