Rejoice! Combat Boots Are Back, Bitches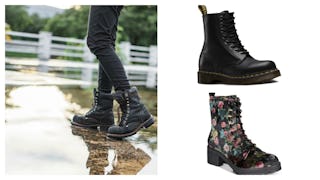 BonNontawat / Shutterstock (left) drmartens.com (upper right) macys.com (lower right)
It's my favorite time of year; the temperatures dip, we have an excuse to bust out the layers and work on our winter bodies, and since the days are shorter and cooler, staying in to snuggle or build a bonfire trumps our need to venture out.
RELATED: The Best Snow Boots For Toddlers, Because Winter Is Coming
But above all else, I love autumn and winter because it's boot season. So bust 'em out ladies, the tall, the small, the booties, and the rubbers.
And I'll have you know, this season there is another reason to get excited about ditching the flip-flops: Combat boots are back, bitches. You can now embrace you inner badass (or just the girl you were in high school) because these aggressive kicks will give your footwear game a boost while giving us all the nostalgic feels.
I am royally pissed I got rid of the Dr. Martens I had in college. I want them back now. I gave them to a local consignment store after graduation, assuming I wouldn't need them anymore. What I wouldn't give to wear those babies now with my favorite boyfriend jeans. Combat boots are like a fine woman; they get better with age.
They were all over the runway at New York Fashion Week, and it's clear they aren't just for pairing with your favorite ripped denim and vintage T-shirt either. (Although, please do that, you goddess, you). They give a fresh vibe to flowy dresses and skirts — the contrast of something feminine with a chunky leather boot lets you have a major fashion moment with little effort.
And can we talk about how comfortable and effortless they look with leggings and a slouchy sweater? An outfit like this can make us look like we have our shit together.
You can tuck your pants into these babies, pull them over jeans, or wear them with your favorite cut off denim. Combat boots are versatile and look great on anyone at any age, I swear. Last weekend, I legit spent half of my Saturday afternoon trying on different pairs with my 12-year-old daughter and an awesome woman in her 60s joined us and bought a pair for herself.
There are also way more choices than what we had to work with in the '80s and '90s. They now offer styles that are high or low. You can sport a pair with a heel or buckles. And of course, we all love the classic look that reminds us of our teen and college years. I can almost smell the teen spirit.
This pair from Macy's comes in black and brown. They have a tough look without being too clunky, and they are under $80.
I love the silhouette of the Dr. Martens Persephone Boot from Journeys. They are funky and feminine and would look amazeballs with just about everything.
This over the knee pair for under $50 feels out of my comfort zone but intrigues me in a way and makes me want to try something outside of my wheelhouse.
If you really want to make a statement, this $60 velvet floral pair will get the job done. These are the lucky ones that my daughter chose, and she turns heads everywhere she goes.
Of course, the pair that makes us think of a simpler time when we loved watching My So-Called Life after school as we ate ramen noodles while throwing our heels up on the coffee table: the classic Dr. Martens combat boot. For $135, you can almost go back in time. They also have a great pair at Famous Footwear for $89.99 The dream of the '90s is alive, baby.
So, if you're a shoe whore like me, or just want to throw it back to the good ol' days, the time is now. Just make sure you hang onto them this time around. They are sure to come back into fashion again, and you want to be ready.
This article was originally published on