Corey Feldman Accuses Charlie Sheen Of Raping Corey Haim In New Documentary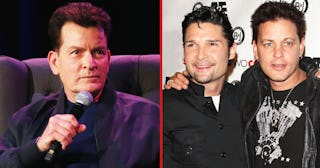 Don Arnold/ Frazer Harrison/Getty
Corey Feldman alleges that Charlie Sheen raped the late Corey Haim in 1986
Actor Corey Feldman has been vocal for years about the sexual abuse he and his late friend Corey Haim — who died from pneumonia in 2010 — suffered in Hollywood as young child actors, and now in a new documentary (My) Truth: The Rape of Two Coreys, Feldman reiterates the allegation he made in 2017, that Charlie Sheen sexually assaulted Haim in 1986.
In the documentary, which premiered in Hollywood and online on Monday, March 9, 2020, Feldman breaks down while explicitly detailing what allegedly happened to Haim. According to Feldman, Haim told his friend that when he was 13 and Sheen was 19, the older actor raped Haim on the set of the 1986 film, Lucas.
"This wasn't like a one time thing he said in passing. It wasn't like, 'Oh, by the way, this happened.' He went into great detail," Feldman says in the doc. "He told me, 'Charlie bent me over in between two trailers and put Crisco oil on my butt and raped me in broad daylight. Anybody could have walked by, anybody could have seen it.'"
This accusation was corroborated by others in the film, including Jamison Newlander, an actor who appeared in The Lost Boys, and Feldman's ex-wife Susannah Sprague, who said that Haim "shared with me that on the set of Lucas that he was raped as a little boy. He told me that it was his costar and he told me that it was Charlie Sheen that did it."
Sheen denied the accusations when Feldman first brought them to light in 2017 and denied them again this week via his rep, who told TheWrap, "These sick, twisted and outlandish allegations never occurred. Period. I would urge everyone to consider the source and read what his mother Judy Haim has to say."
Haim's mother Judy has stood by Sheen's innocence as well, who also told TheWrap last month that "I feel that this is a huge accusation without any proof and without my kid being here to defend himself" and that Feldman has "lost his mind" and "the horrible thing is he thinks this is a great way to commemorate the 10-year anniversary of my son's death."
In the doc, Feldman also named the men he says sexually abused him, the actor Jon Grissom, nightclub owner Alphy Hoffman, former talent manager Marty Weiss, and the late actor Dominick Brascia. This isn't the first time Feldman has named his own alleged abusers and all the men have denied the accusations in the past.
This article was originally published on