Couple Gets Married At Costco Because Why Not?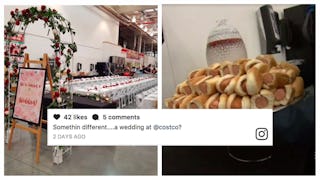 Image via Instagram/ News 9
You know you want Costco to cater your wedding now
There are dream weddings, and then there are dream weddings. You know the type: Ideas that are so out there, you know they're absolutely perfectly suited to the couple, because no one would commit to these themes unless they're 100 percent down.
That would be Sue Berkeley and Eli Bob, who got married over the weekend at their local Costco.
Berkeley and Bob both said the idea started out as a joke, but over time, they grew more and more attached to the idea of getting married at the store where they've spent so many days strolling, hand-in-hand, through the aisles. So they pulled the trigger, and the result is relationship goals. Look at their photos and try not to want to get married at Costco. It's pretty damn appealing, when you think about it.
There's room for a big crowd.
Costco will provide the decor for the head table in the form of an advertising banner.
If you don't have a robust guest list, random shoppers can stop by and wish you well.
And then there's the best part: Costco's food court becomes the reception venue, and the catering includes hot dogs, pizza, chicken bakes and unlimited fountain drinks, all for less than $10 per person. Based on the price tag alone, sign me up for a Costco wedding.
Even the cake can be provided in-house, and you know a Costco sheet cake rivals any wedding cake out there when it comes to taste.
"Where else can I get married to the one I love, in the place that I love, surrounded by the people I love?" Berkeley told 9 News. "The initial idea of the wedding was meant as a bit of joke. I've got a big family and so does he, and I wondered how we were going to do it. Then I thought I should get married at Costco because I'm there all the time – so it just made sense."
Berkeley and Bob haven't planned their honeymoon just yet, but told News 9 they want to go on a cruise, and they sell those at Costco, right? If not, they should.
Congratulations to the happy couple, and thanks for wedding inspo as solid as anything we could find on Pinterest.