Nearly 60% Of Parents Are Counting On Their Tax Refund To Make Ends Meet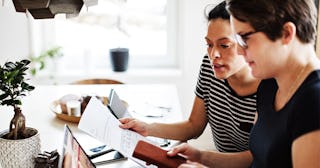 Maskot/Getty
Note: Tax Day for 2020 was extended from April 15 to July 15.
I know I'm not the only person who thinks tax season really sucks. I have a few friends who are accountants. They barely see the light of day this time of year. For parents, it feels like one extra thing we have to do on top of all the other tasks we don't have time for.
The fact that we are supposed to collect all of our documents, receipts, and tax forms together after the holidays when all our money is gone, yet before the nice weather hits, is beyond depressing.
We can only hope a refund will be coming, but until all the numbers are plugged in, some of us don't even know if we'll be getting any money back or not. It's like a guessing game many of us lose sleep over.
There are those who count on that money as part of our income. There are those who are able to make the holidays nice for their kids because they put Christmas on the credit card and can't pay it back until they get that tax refund. And there are people who rely on that extra boost when their return is delivered to simply make ends meet and provide basic needs for their family.
LendingTree reports that nearly 60% of parents are relying on their tax return to relieve some kind of financial burden this year. They interviewed over 1,000 Americans to see how they plan to use the cash they'll get back from Uncle Sam and 37% of parents with children under 18, are using the money to pay off debt — mostly credit card debt.
Brianna Wright, senior researcher at LendingTree, told Scary Mommy, "Consumers across the country are relying on getting a tax refund to make ends meet, and those with young children are especially counting on getting a check from Uncle Sam."
Wright goes on to warn consumers to be cautious and manage their expectations about their return. "This is only the second time taxpayers will file under the new tax code, and there's a chance some won't receive that big refund they had been planning on, or that it will be delayed," she says.
Scary Mommy also talked with a few people to see what they will be doing with their tax return this year and the results fell in line with the LendingTree survey. One single mother of two says, "I am relying on my return to pay off debt and put a little into my savings."
Another single mother of four says she has no choice but to "catch up on bills and getting any needed repairs on the car. I've worked for a non-profit forever and using the money to catch up feels like a way of life."
A married mother of two says she and her husband will be using their refund to "pay off electrical work we had done on our home, put property tax money away for the fall, and pay down some credit card debt."
For so many parents, this has been the way they are living — hoping they get enough back to cover some overdue bills, pay for necessary improvements on their home or car, and/or paying down debt they've already accrued. They count on that money to give them some breathing room, and hope it will give them the bump they need to finally feel caught up.
According to Market Watch, "40% of people in the IRS' Volunteer Income Tax Assistance (VITA) program saved their refund money last year." So, those who are concerned they are just blowing their money on luxuries such as televisions or vacations need not judge.
You can have every intention of saving but have something unexpected arise. People who planned to save ended up needing the money for groceries, household expenses, and unexpected emergencies. And we can't ignore out-of-pocket healthcare care costs spiked by 60%, reports JP Morgan Chase Institute.
While Wright suggests you save a bit each month throughout the year so you aren't dependent on your tax refund, we know that is not a realistic option for many families. For paycheck to paycheck families, they are often choosing what bills to pay (and which ones to hold over) so that they can still afford groceries, gas, and utilities. A savings account is a luxury they literally can't afford.
If you ask me (and probably 60% of other parents), tax season isn't just a fun payday. It's the one thing that keeps us from drowning in debt.
On the plus side, being an adult means we can eat as many brownies as we want without anyone monitoring us, so if you'll excuse me, I'll be doing that while keeping my fingers crossed a check from Uncle Sam will be coming to me soon.
This article was originally published on