Crocs Is Giving Up To 10,000 Free Shoes Per Day To Healthcare Workers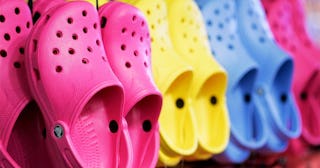 Boston Globe/Getty
Crocs just announced its 'Free Pair For Healthcare' program this week
Clog footwear company Crocs announced they're launching a program that will give one free pair — up to 10,000 shoes per day–to every healthcare worker who works the front lines during the coronavirus pandemic. "A Free Pair for Healthcare" will let doctors, nurses, and other medical staff choose one free pair of Crocs Classic Clogs or Crocs At Work style shoes.
Crocs are already pretty popular with healthcare workers because they're comfortable for on-your-feet shiftwork. They're made out of a rubber-like material that is also waterproof and can be easily washed off, which is an advantage for healthcare employees taking special precautions because of the spread of the coronavirus.
"Over the past week, we have spoken to healthcare workers, their facilities and even their family and friends, and they have specifically asked for our shoes in an effort to provide ease on their feet, as well as ease of mind as they need the ability to easily clean up before they go home to their families," said Crocs CEO Andrew Rees in a statement.
Healthcare workers can sign up for free shoes on their website. In addition to the free online requests for individual healthcare workers, Crocs also is committed to donating up to 100,000 pairs of shoes to be distributed across a number of select healthcare facilities and organizations in a dual effort to get as much product as possible into the hands of those who need it most.
The shoes range in price from $39.99 to $59.99, and the company says it will continue to donate shoes as long as supplies last.
"The healthcare industry has always embraced Crocs, but our mantra of 'Be comfortable in your own shoes' applies now more than ever, and we want to do more to help our nation's heroes," says Rees. "We only have one ask: Share the word to all those in healthcare and please be mindful to allow those who need these most to place their requests. This is the least we can do for those working incredibly hard to defeat this virus."