You Can Now Create Custom Slippers That Look Exactly Like Your Dog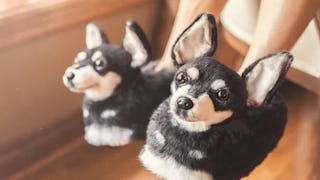 Image via Cuddle Clones.com
These doggo slippers must be seen to be believed because they are AMAZING
If you're a dog owner, chances are you love your dog almost as much as if you'd given birth to him or her yourself. What better way to honor your favorite doggo than by creating a set of custom slippers that look exactly like them?
Spoiler alert: there is no better way.
Cuddle Clones is a company that allows you to customize a pair of plush slippers to look like your dog or cat (yes, cat people, you are absolutely included in this type of love). But seriously, just look at the accuracy of these slippers!
If you think about it, it makes perfect sense from a business standpoint. Dogs are cozy and we love to cuddle with them. Slippers are like cozy little cuddles for your feet. Dogs + slippers = cozy heaven.
So the slippers aren't cheap (though for something so intricately custom made, why would they be?). They cost $199 a pair and they take about eight weeks to get to your doorstep.
And don't worry if your slippers arrive and they don't look like your favorite four-legged friend — the company offers a 100% refund if you're unhappy with the way they look.
Though, I mean, come on — they can create a literal twin for any kind of dog!
https://www.instagram.com/p/BhxToEeA9Z7/
If slippers aren't your jam (maybe you love cold feet? IDK), Cuddle Clones also makes actual stuffed animal clones of your pet. And they're just as adorable and realistic and provide kind of a meta cuddle buddy for your dog when you're not home.
My own dog is 95 pounds and comes up to my hips, so I'm not sure a life-size version is within my financial capability. But it's winter and I work from home, so what better footwear to toss on when I take him out to do his business than a pair of doggo slippers that look just like him?
https://www.instagram.com/p/Bafh3kUlO6H/?utm_source=ig_embed
This article was originally published on