Cyntoia Brown Granted Clemency And Will Be Released From Prison This Year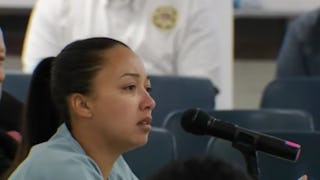 Image via NBC News
She's been serving a life sentence for murdering a man soliciting sex from her as a teen
According to the Tennessee Governor's office, Cyntoia Brown has been granted clemency and will have her life sentence in prison commuted. She will be released on August 7 and placed on parole.
"This decision comes after careful consideration of what is a tragic and complex case," Governor Bill Haslam said in a statement. "Cyntoia Brown committed, by her own admission, a horrific crime at the age of 16. Yet, imposing a life sentence on a juvenile that would require her to serve at least 51 years before even being eligible for parole consideration is too harsh, especially in light of the extraordinary steps Ms. Brown has taken to rebuild her life. Transformation should be accompanied by hope. So, I am commuting Ms. Brown's sentence, subject to certain conditions."
Brown responded with her own statement, issued by her lawyers: "Thank you, Governor Haslam, for your act of mercy in giving me a second chance. I will do everything I can to justify your faith in me."
She also said she was grateful for the far-reaching support, and thanked Tennessee Department of Corrections officials.
"My hope is to help other young girls avoid ending up where I have been," she said.
"We're here to say thank you to everyone here and everyone around the world for pleading for and praying for Cyntoia Brown," said one of Brown's attorneys, Charles Bone, in a press conference today.
Brown, who is now 30, was a victim of sex trafficking as a child. She was only 16 when she shot and killed 43-year-old Johnny Mitchell Allen, a man who was soliciting sex from her at the time. She admitted to the crime, saying that she was scared for her life around the man – and that she only stole from him for her pimp, who she also feared.
In 2004, she was tried as an adult, convicted of murder and robbery, and sentenced to life in prison. However, in the last year, her case gained nationwide visibility as celebrities and activists called for clemency for a minor whose life was turned upside down by illegal sex trafficking – someone who was a victim long before she was a criminal, and someone who was trapped in a dangerous situation and desperate to escape.
Rianna was one of the first celebrities to call for clemency, in 2017. She was followed by others, including LeBron James, Kim Kardashian, and Amy Schumer, along with millions of Americans who signed online petitions.
She was granted a clemency hearing in May 2018.
Her story was told in the documentary Me Facing Life: Cyntoia's Story, in which she describes being forced into prostitution as a teen and being sexually and physically abused throughout her life while imprisoned by her pimp. The documentary also revealed that she likely suffers from fetal alcohol syndrome – a fact that wasn't taken into account at her trial.
Since her sentencing, Brown has been a model prisoner, earning her associate's degree from Lipscomb University in 2015 and then working towards her bachelor's degree, which she should complete in May. She has also mentored troubled youth through Tennessee's Juvenile Justice System.
Receiving a commuted sentence is different from being pardoned: Brown will still have a criminal record – it's just that her sentence will be shortened significantly to time already served up until her release in August. Altogether, she will have served 15 years for her crime and will have 10 years on parole.
Haslam leaves office as governor on January 19.
This article was originally published on