This Is What A Father's Love Looks Like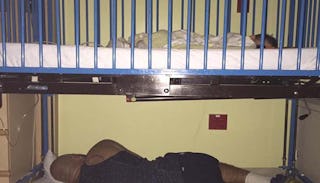 Image via Facebook
A dad slept under his sick child's hospital crib in sweet viral photo
A viral photo of a devoted dad is touching hearts everywhere, with good reason. After working the night shift, he went to be with his sick toddler in the hospital. And when there was no place for him to sleep, he got a little creative in order to be by his son's side during the frightening ordeal.
When Andre Palmer left after his shift at a box company this past Tuesday, he had only one thing in mind — going to the hospital to be with his 20-month-old son AJ, who had been admitted after suffering a severe asthma attack. Scary Mommy spoke with his wife Amy, who tells us that due to AJ's condition, "we are constantly battling his breathing issues," but fortunately, "he's not hospitalized frequently."
To that end, Andre made sure he was right there for his son during the scary hospitalization. Literally. He crawled under the boy's crib and slept there. The resulting photo, which Amy shared on her Facebook page, has received an outpouring of praise and support.
She writes, "This is a picture of a hard working man dedicated to his family!! After working all night third shift, he's right here with his son who is in the hospital. He's so tired but he's here!!"
The photo garnered many comments cheering on Andre's devotion to his son and praying that the little boy get better soon. Amy says, "I am just so happy we have touched so many people. I am very overwhelmed with all the love and support we have received!"
Amy describes the scares resulting from AJ's health as "stressful, to say the least," so it's easy to understand why his father wouldn't want to leave him for even a moment during a hospital stay. Of the attention resulting from the viral photo, she says her husband is "shocked" and in his eyes, "was just doing his job as a father."
Thankfully, Amy tells us that post-hospitalization, little AJ is doing much better, and we hope for his continued good health.
This article was originally published on