Dan Levy Opens Up On Managing His Anxiety While Making 'Schitt's Creek' So Joyful
by Madison Vanderberg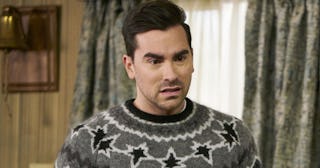 Pop TV
Dan Levy says his anxiety got so bad during the making-of Schitt's Creek that he sometimes needed a neck brace
Schitt's Creek is such a funny, sweet, and joyful show and was such a balm to so many people as we all collectively binged and celebrated it during the darkest moments of the pandemic. Such a light and jubilant show seems like it would have been a constant joy to create, but for creator, star, writer, producer, and showrunner Dan Levy, he actually needed a neck brace at times to deal with the stress of making the beloved Canadian sitcom.
In an interview with Bustle, Dan describes a typical day on the Schitt's Creek set as starting at 5 a.m. and ending at 2 a.m. as Dan wrote scenes, acted in them, approved budgets and costumes, and oversaw the editing and the writer's room. Though he loved the work, Bustle describes how his anxiety would get so bad that his "neck would seize up, forcing him to wear a brace."
The better part of his adult life has been spent with Schitt's Creek, so much so, that Dan joked that "over the past six years. I really haven't been outside that much" and that to make the show enjoyable and "light" he had to — jokingly — "repress" his anger and rage.
https://twitter.com/jetpack/status/1340026205303615493
"Even though [Schitt's Creek was] super intense and even though at times I need a neck brace," Dan added to Bustle. "It was never not inspiring, and it was never not thrilling and exciting and totally satisfying." Dan later joked on Twitter that he should be "expecting a hefty therapy bill" from the Bustle journalist.
Dan actually mentioned needing a neck brace for anxiety over a year ago at a panel, and everyone thought he was joking. When asked what it was like to be the boss of his dad Eugene Levy, Dan said, "I sleep with a neck brace. I wish I was joking."
Dan, who says he was naturally social anxious as a kid, which he says "came from a deep-rooted fear of knowing that I was gay and not being able to be free," says that now that Schitt's Creek isn't consuming his life, he says he wants to focus on dating more.
"I would like to date more," Dan says, "…When you're doing something that you love it's like, 'I have a full plate.' So to [want to] make space for someone else…in a way, it is the ultimate filter. You're basically saying, do I want to carve out the space in an already full and fulfilled life for this person? And a lot of the time, the answer is no. But it only makes it that much better when the right person comes along."
The fact that this man had to endure both physical and emotional pain to create this show we all love so much ALL while maintaining the flyest eyebrows I've ever seen, just makes me love Schitt's Creek that much more. Bless this man.