Dan Levy's Zillow Ad On 'SNL' Hit Way Too Close To Home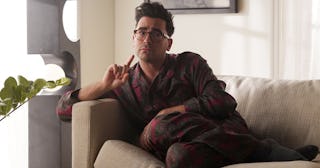 Rosalind O'Connor/NBC
"I feel very, very personally attacked by the SNL Zillow ad"
In a surprise to no one, Schitt's Creek's Dan Levy — in his glorious, glittery suit — crushed it hosting Saturday Night Live for the first time last night. And two skits in particular still have us reeling: the all-too-relatable Zillow ad and the spot-on "we're doing everything right" pandemic pod sketch.
Let's start with Zillow — the new fantasy for people in their late-30s who dream of affording a home, but just can't.
"You're in your late 30's now. Sex isn't doing it for you anymore. You need something new. Something exciting. Zillow dot com," Heidi Gartner opens the ad, as we watch several other cast members — and Levy — put on their best seductive voice for a sultry ad… about Zillow.
"I'd never want to live in North Carolina. But if I did, I could buy a big, gross mansion," Levy says.
"The pleasure you once got from sex now comes from looking at other people's houses," SNL cast member Ego Nwodim adds.
The ad was so good, so painfully accurate that even Zillow, the online real estate marketplace tweeted about it after the episode aired.
https://twitter.com/jetpack/status/1358299205056479232
Zillow was far from alone from loving the ad. Almost immediately after it aired, fans flocked to Twitter to call out SNL on the assault.
"We may be a divided country, but I think most of us can at least agree that the Zillow sketch on SNL hit way too close to home tonight…" tweeted Joy Ann Reid, MSNBC's The ReidOut host.
Next, "Super Bowl Pod" tackles pandemic pods and the people in 'em who claim they've been doing everything right to meet up (tests, distancing, masks). But the sketch quickly unravels when each pod member reveals they've, in fact, been doing everything wrong leading up to meeting, like taking part in a wrestling club and massaging the lips of total strangers.
And we couldn't close out this recap without a nod the best cameo: Levy's dad, Eugene.
"I flew in to wish you luck tonight," Eugene said while contained in a transparent chamber as Dan gave viewers a very pandemic backstage tour. "But because I traveled, I'm now in an isolation box. Could one of you turn me towards the stage so I could see the show?"
It was such a surprising moment, even Emily Hampshire, who played Stevie on Schitt's Creek, tweeted about it — in character.
"Mr. Rose!!?" she wrote. "omg I can't believe you['re] on @nbcsnl tell them about the Motel!!"
Schitt's Creek also joined in the Dan-on-SNL love-fest, tweeting:
They also hit fans square in the feels with one, single tweet:
"My 13-year-old self has fainted in a really needy, melodramatic way," Dan said during his monologue.
This article was originally published on