Danger And Death Threats Are Commonplace For Me (And Other Abortion Providers)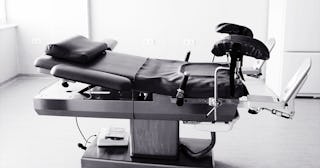 Scary Mommy and Nenov/Getty
On May 31, 2009, my boss and mentor Dr. George Tiller was assassinated while attending the Sunday service at his long time church. He was killed by an anti-choice extremist for dedicating his career to providing safe, compassionate abortion care to women who needed it. For those of us who worked for him, who loved him and revered him, the grief was devastating.
The shock and pain of that day has subsided some in the years since, but the threats and attacks against abortion providers have continued.
Recently, a familiar chill ran up my spine as I listened to three far-right Republican officials condoning Dr. Tiller's murder on tape. "Us republicans," one said in the secretly-recorded conversation reported by Newsweek, "we all agree, the murder of George Tiller was bad, but am I sad he's dead? No, I was glad that I was not the one who pulled the trigger." Then the official went on to say the quiet part out loud: "There's not a single pro-life person that's not happy."
While most in the anti-choice movement publicly disavowed Dr. Tiller's murderer, the stark truth is that the far-right's inflammatory rhetoric continues to put abortion providers and patients at risk.
Night after night, year over year, Dr. Tiller was hounded and harassed. In the mid-'80s, his clinic was bombed. In August 1993, he survived the first assassination attempt. In July 2008, his clinic was deliberately flooded, which caused massive damage and a slowdown of services. The attacks kept coming.
Dr. Tiller used to say, "We're here to make people's hopes and dreams come true" and "Everyone needs little help now and then." It was simple, just help people navigate their lives. At first, it was unconscionable to me that such violence and vitriol could be directed at someone of such kindness and compassion. But I soon learned the hard way.
Over the years, the harassment and intimidation has been intense. When I began working at a clinic back in the early '90s, we endured having our windows broken out with rocks, the air conditioning sabotaged in the middle of summer and people locking their bodies to our doors. After Dr. Tiller's murder, someone erected a large wooden cross in my back yard.
I began receiving death threats. Anti-choice activists, organized by a local pastor, would protest my home with signs threatening my life and that of my family. The protesters held signs like "Prepare to Meet Thy God" and "Where is your church," referring to Dr. Tiller's murder at his church. On one occasion, I was scared enough of what they would do that I had my daughter and her friend scale the backyard fence and stay with a neighbor.
Unfortunately, things haven't improved over the past three decades. In fact, over the past four years, violence and intimidation have skyrocketed in the United States. With a president in the White House who fans the flames of hate and division, some people have been emboldened by his anti-choice rhetoric. According to the National Abortion Federation, violence and disruption at clinics have escalated at alarming rates, with incidents of trespassing and picketing at record highs last year.
On election night in 2016, the vestibule of one of Trust Women's clinics was vandalized – delaying care for our patients scheduled that next day.
As a mom, all I wanted to do was keep my daughter safe. And it broke my heart when I had to familiarize my daughter with so many law enforcement officials and ensure that she knew her "escape plan" if she were ever home alone, confronted by protesters outside. She was deprived of the childhood innocence that each and every child deserves.
My court case against the local pastor who terrorized us, a seven-year ordeal, ended just last October.
It's unfortunate that signing up for social justice work too often means accepting that violence and intimidation will most likely come with it. I've had the opportunity to have many long conversations with my daughter about the events she experienced in her childhood.
I can say that what she experienced has influenced how she sees the world. Her approach is one of empathy and compassion for others. It's unfortunate that people would work so hard to bully people out of their profession, but for me, it's made me even more steadfast and resolved.
This article was originally published on