If Date Nights Are Too Hard, Try 'Day Dates'
by Wendy Wisner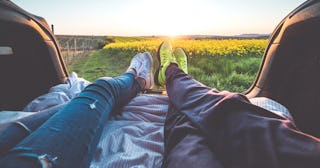 picjumbo.com/Pexels
My husband and I have been parents for more than 12 years, and I can count on one hand the number of times we've gone out for "date night."
Now, before you freak out on me and start telling me why my marriage is about to go up in flames, let me explain. While it has been a struggle to spend a night on the town together for various reasons, it's not that my husband and I haven't had our fair share of "dates" together – it's just that we very rarely do them during the evening hours.
Our reasons are many. When the kids were breastfeeding babies, it was just simply too much of a pain-in-the-ass for me to pump bottles, and so we'd usually do our "dates" as a quick lunch out while a grandparent watched the baby. That worked fine for us, and I never thought spending time together as a couple should mean adding stress to the mix.
Then, as toddlers and young children, our kids weren't great at falling asleep without one of us tucking them in (and usually lying with them as they drifted off). We did stay out past their bed times on occasion – for example, for weddings and other late-night events – but our kids pretty much just stayed up until we got home, which meant for a very cranky morning.
So we avoided date nights then, too, unless we had a really good reason to do one, because it almost always wasn't worth ruining our weekend by a sleep deprived, cranky kid.
Now that our kids are older, these sorts of things aren't really issues anymore. However, it's not always easy for us to get child care at night. Our parents – the token babysitters around here – are often busy on weekend evenings (apparently some of us have a smashing weekend social life!). And arranging a date at night is an exhausting pain-in-the-ass. My kids still go to bed too late when we aren't there, and they often up up cranky, sugared-up messes (thanks, grandparents). Oh, and if the babysitting happened here, my house is often a bit of a wreck – and I'd much rather put my house back together in the afternoon than at 11 p.m. at night.
But if I'm being perfectly honest, most of it has to do with the fact that my husband and I are both tired AF. After about 9 p.m., we are both toast, and so the idea of going out to party at that hour – often amongst people 20 years younger than us – is just about the most unappealing idea in the world.
So, we often end up doing day dates. And let me tell you: They are the best thing ever.
Just last weekend, my husband and I dropped our kids off in the late afternoon at my mom's house. We went out for ice cream together, then took a walk in the beautiful warm spring afternoon under the cherry blossoms. It was divine. Other times, we drop our kids off and simply go home to a quiet house and just talk … or do other stuff (wink, wink).
Day dates work especially well if you don't have any sort of babysitting available. These days, so many parents are in this position, with extended family often living far away and babysitters costing an arm and a leg.
If you don't have childcare, perhaps you and your significant other can play hooky from work one day and go out to lunch. Or you can trade playdates with friends who are also looking for creative ways to make dates works. If you have a flexible or atypical work schedule, you can slip in an hour of romantic time here and there when you can. It all counts.
And if you have little kids not in daycare or school yet, set aside a naptime or after bedtime block to be just for the two of you. Or throw an iPad at your kids and lock yourself in the bedroom. No shame in that.
The point is that fitting in dates with your spouse often means thinking outside the box, getting creative – and most of all, making the intention to do so. Relationships require work and maintenance. It can be hard to remember that, especially when you're a busy, overwhelmed parent. But your relationship with your spouse is the rock your family is built on, and it's important you find times to connect, talk, and remind yourself why you got into this beautiful mess in the first place.
Oh, and don't let anyone judge you for how you do dates. I've had people make all kinds of faces when I tell them that my husband and I rarely go out on dates during the evening hours. As long as you and your spouse are cool with how you do things, it doesn't matter one bit what others think. I know it's easier said than done, but you've got this.
Again, it definitely is important to give your relationship some attention – to have regular times that you and your spouse relate to one another as a couple, rather than simply as parents to your lovely off-spring. But you don't need to go on regular date nights to make that happen. Day dates can be just as awesome as date night, and are often easier to pull off, which is a win in my book.
This article was originally published on