Demi Lovato: Complimenting Someone's Weight Loss Can Be 'Harmful'
by Erica Gerald Mason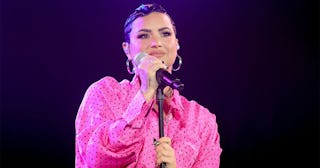 Rich Fury/Getty
Demi Lovato gave poignant insight into how words can help perpetuate a cycle of self-harm
Demi Lovato continues to speak their truth in ways that continue to impress. The singer, who has been candid about their cycles of addiction, recovery, and relapse, shared an incredibly open post to their Instagram stories on Sunday about eating disorders and how others can be mindful when they dole out well-intentioned compliments about a person's body.
"Idk who needs to hear this but complimenting someone on their weight loss can be as harmful as complimenting someone on their weight gain in regards to talking to someone in recovery from an eating disorder," Lovato's first story begins.
"If you don't know someone's history with food, please don't comment on their body. Because even if your intention is pure, it might leave that person awake at 2 a.m. overthinking that statement," Lovato continued.
The Dancing With The Devil singer continued in the next story. "Does it feel great? Yeah, sometimes. But only to the loud ass eating disorder voice inside my head that says, 'See, people like a thinner you' or 'If you eat less you'll lose even more weight,'" Lovato posted.
"But it can also sometimes suck because then I start thinking 'Well, damn. What'd they think of my body before?"
Lovato concluded their post with a thoughtful self-affirmation.
"Moral of the story: I am more than the shell for my soul that is my body and everyday I fight to remind myself of that, so I'm asking you to please not remind me that that is all people see of me sometimes."
The star has been candid about how they use their work to heal — and to inspire others. "Creating the music video for #DancingWithTheDevil was not the easiest shoot I've ever done… I create my art to heal, and to inspire others. I'm here today and I'm happy you are too," Lovato captioned a promo of their recent music video that re-enacts their 2018 overdose.
Lovato, who recently came out as non-binary, shared on their new podcast, 4D with Demi Lovato (via Elle) that they think their 2018 overdose was linked to being misgendered. "I was suppressing my truth to please people that wanted me to be the sexy, feminine pop star and look a certain way," Lovato shared.
The star also recently posted a meme about how it feels to be misgendered, writing, "Thank you @henryjgarrett for this beautiful drawing. This is exquisite. thank you trans people for answering the truth of your destinies beyond the constructs and limitations formed to control and deny us our truest nature. we are all meant to experience the iteration of ourselves that feels like flying."
Their comment section lit up with people supporting their journey. "Preach to them Demi!!!" One person wrote.
Much love to Lovato for always walking in, and sharing, their truth with fans.