Demi Lovato Wrote An Actual Trump Diss Track
by Madison Vanderberg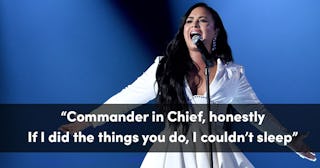 John Shearer/Getty
Demi Lovato speaks to the president in 'Commander In Chief'
Every day in the Trump administration is a damn shit show. When he's not appointing conservative supreme court justices who want to roll back abortion protections, he's shouting out white supremacists or playing "Macho Man" at a giant rally in the middle of a global health crisis. The president is trash and although many celebrities have spoken out about the man and have been urging their followers to vote all month long, Demi Lovato took it one step further and penned a diss track. Well, a diss ballad to be more specific.
Lovato's new song "Commander In Chief" may not say Trump by name but the singer told CNN that yes, this song is not a metaphor, it's about Trump.
"There's been so many times that I've wanted to write the President a letter or sit down with him and ask him these questions," Lovato said in an interview with CNN. "And then I thought, I don't really actually want to do that and I thought one way that I could do that is writing a song and releasing it for the whole world to hear and then he has to answer those questions to everyone and not just me."
https://www.instagram.com/p/CGT01jQhX5x/
Lyrics include:
Shutting down systems for personal gain
Fighting fires with flyers and praying for rain Do you get off on pain? We'rе not pawns in your game
Commander in Chief, honestly
If I do the things you do I couldn't sleep, seriously Do you even know the truth?
We're in a state of crisis, people are dying
While you line your pockets deep Commander in Chief, how does it feel to still Be able to breathe?
Haters will say the song is self-indulgent, but Lovato has young fans and some of those young fans have Republican parents and if this is how they start to question and forget their own political path, then hell yeah. Also, the president is a racist oligarch who is trying to steal the election, so I really don't have time for sarcastic eye-rolling. Every angle we have to attack this man is necessary. Also, Lovato says she doesn't care what people think about her decision to speak out through song.
"You're damned if you do, you're damned if you don't…" Lovato added to CNN. "It's just, like, you have to live what feels authentic to you. To me, that's using my platform to speak out about the things that I see that are wrong."
Also, I personally, just love it when angry conservative fans find out their favorite celebrities are vocal liberals and they make a stupid show of leaving a comment on Lovato's Instagram how she just "lost a fan," because I'm just like, good luck finding anything to watch/listen/read because literally everyone that makes your favorite content hates Trump. Sorry, not sorry.
Lovato will perform the song live for the first time tonight October 14, 2020, at the Billboard Music Awards.
This article was originally published on